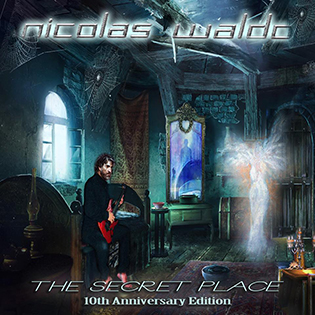 NICOLAS WALDO - The Secret Place - 10 Anniversary Edition



Please describie the new album musically and lyrically?

The Secret Place was my second full lenght album recorded on 2007. The idea is to celebrate his 10th anniversary in a new edition , remastered and with a new cover design. The album was who impulse my career like soloist in Colombia and from there for worldwide.

If you had to choose one artist (I know this is hard) but if we had to say "recommended for fans of XXXX" who would that be?

Luca Turilli from LTīS Rhapsody, George Bellas and Tony MacAlpine.

How does it differ from previous recordings (if any)

The previous album from this was "Ark Of The Covenant" - 2005, my first album.... Before of this , I recorded a Demo album entitled "Ripping The Sky".

The sound of THE SECRET PLACE is more melodic and virtuous and the production is much better and professional.

Any specific influences towards music or lyric subject?

THE SECRET PLACE is a place where you find yourself and where you work with your dreams and illusions. In music is the place where you cultivate your talent and on the spiritual, it is the place where you meet with JesusChrist and He guide your life and your decisions.

How long did it take to make this album:

2 years.











Production and recording credits:

All guitars, bass, keyboards and FX Programming by Nicolas Waldo.
All Drums by Leandro Arias.
Cover art (10th Anniversary Edition) by Nicolas Waldo.
Recorded and mixed at MEGGIDO RECORDS, Bogota, Colombia.

Official websites, facebook and so...:

Official Facebook: www.facebook.com/nicolaswaldo
Official Youtube: www.youtube.com/nicolaswaldo
Instagram: nicolas_waldo










Alpha Force

Arkangels

The Secret Place

Breath of Life

American Ground

King of the Universe

Lost World

Pillars of Creation

The Last Seven Cups

Angel Tears




official websites, facebook and so...:

http://www.facebook.com/nicolaswaldo

http://twiter.com/nicolaswaldo

INSTAGRAM: @nicolas_waldo


Official Endorsment:

IBANEZ GUITARS:
http://www.ibanez.com/artist/u_artist_detail.php?cat_id=1&artist_id=1201


BLACKSTAR AMPLIFICATION
https://www.blackstaramps.com/uk/artists/profile/nicolas-waldo


ROTOSOUND STRINGS:
http://www.rotosound.com/nicolas-waldo/

AVAILABLE IN DIGITAL FORMATS FROM ITUNES, APPLE MUSIC, AMAZON, SPOTIFY ETC.






ALSO AVAILABLE: