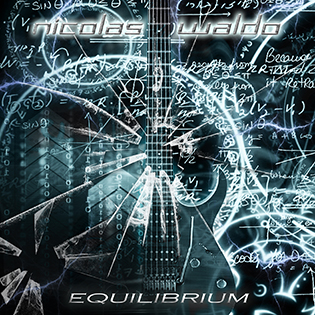 NICOLAS WALDO - Equilibrium

Please describie the new album musically and lyrically?

EQUILIBRIUM is a powerful album where the musical equilibrium is the first. The central idea of this album was to create a shred guitar and instrumental album with differents elements and each one up located strategically.

On EQUILIBRIUM album , you find speed accuracy , low tempo, mid tempo and high tempo songs, techniques like speed picking , sweep picking , tapping, legato , chicken picking , hybrid picking , etc and harmonious melodies , heavy riff and also keyboard solos, where Nicolas played the keyboard; his second instrument. In conclusion , EQUILIBIRUM is a album that all guitar player must been listening.


if you had to choose one artist (I know this is hard) but if we had to say "recommended for fans of XXXX" who would that be?

Tony Macalpine!!....Is for me a great influence like musician and composer.


how does it differ from previous recordings (if any)

Each album that I has made are like "my little sons". It is very dificcult think , what album is the best...or what album is more important for me ... now I have 10 studio albums... so, I think that each album is the best result at that moment and enjoy each of them in a special way is the most important.


What was the goal with making this album?

I´m loving to make music, the musical composition , etc. The principal idea for create EQUILIBRIUM, was think in a instrumental album that include differents elements of all my guitar player experience on these 23 years playing the instrument.


Any specific influences towards music or lyric subject?

The album is aleatory, is not thinking in some special theme. The idea was did create the best album of my career like musician at the moment.


how long did it take to make this album:

2 years aprox

what has the different musicians contributed to the result?

Dion taboada, bass player on he project, he is teacher in differents music schools and universities in Colombia, He dont´play rock and metal only , he plays different styles like jazz, colombian folklore , salsa music ,and he has a wide experience. For me , was a privilege that Dion recorded all bass lines in the album. He is a complete musician.

Leandro Arias is a colombian drummer but he living in Canada. He is artist from The Cabos drumsticks and Mapex drums. With him , we played since 2007 and we are good friends. The work with him is extraordinary!,...Is a great drummer and specially a great person!...










musicians on the release:

NICOLAS WALDO - All guitars and Keyboards
DION TABOADA - Bass
LEANDRO ARIAS - Drums

production and recording credits:

All guitars and basses recorded are Meggido Records Studio (Bogota, Colombia)

All drums recorded are ALT + 164 Studios (Ontario, Canada)

Mixed and mastered at Meggido Records Studios (Bogota, Colombia)












Tracklist:
1. EQUILIBRIUM
2. MIRROR OF MADNESS
3. THE DREAMER
4. THE FINAL CODE
5. MIRAGE
6. THE LAST RACE
7. SPECTRAL VORTEX
8. DUAL PERSPECTIVE
9. MYSTICAL FINGERS
10. THE DEVILS TRILL (Giussepe Tartini Cover)
11. BLUE FIRE TORCH



official websites, facebook and so...:

http://www.facebook.com/nicolaswaldo

http://twiter.com/nicolaswaldo

INSTAGRAM: @nicolas_waldo


Official Endorsment:

IBANEZ GUITARS:
http://www.ibanez.com/artist/u_artist_detail.php?cat_id=1&artist_id=1201


BLACKSTAR AMPLIFICATION
https://www.blackstaramps.com/uk/artists/profile/nicolas-waldo


ROTOSOUND STRINGS:
http://www.rotosound.com/nicolas-waldo/

AVAILABLE IN DIGITAL FORMATS FROM ITUNES, APPLE MUSIC, AMAZON, SPOTIFY ETC.






ALSO AVAILABLE: