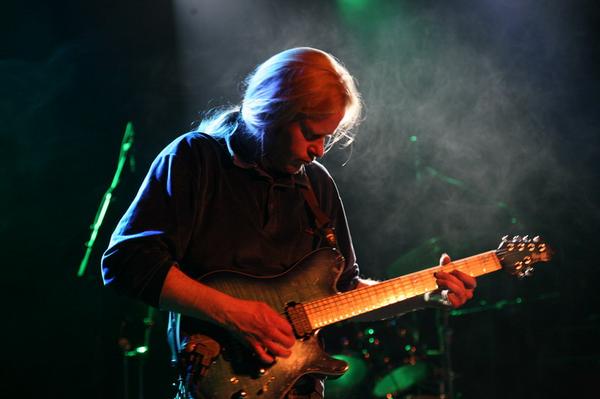 Mainly diverse instrumental music ranging from Metal, blues,funk, jazz,acoustic etc..
AIMS AS A MUSICIAN / GUITARIST
My main goal since I started with music is having an own voice and story and compose. music is a great tool when expressing. Still working after 23 years with dedication and determination to spread my work to bigger audience and to perfect every new album again!!

TELL US MORE ABOUT YOUR LION MUSIC RELEASES

Joop Wolters - Workshop
This was my first release that I made in 1998. I recorded this album with an 8-track recorder and it was the first chance I took to make a collection of tunes that I could hone the way I envisioned it displaying musical styles that inspired and influenced me. In 2003 Lion Music picked up on this first release and the offered to re-release it via their label. Making this first one taught me a lot about arranging, mixing and searching for your own sound. This album was also the start for the 12 year relationship I had with ENGL working as a clinician for them on the road. Still after all these time I get messages from people all over the world that discovered this debut cd. It's good to know music has no expiration date.


Joop Wolters - Speed, Traffic And Guitar Accidents (available at special price for July 2010 in the LM store - click)
This is my second effort, released in 2004. This album opened many doors for me and brought me in contact with other musicians around the world and resulted in some cool projects (Shadrane, Lalu, studio work, diverse tribute-cd's). When making this album I was determined to go the extra mile attracting 3 different drummers and some guest appearances on keys to give it the bonus value. It was investing a lot of time and effort but it was worth it in the end. To a lot of people this album seems to be their favourite, it got great worldwide reviews! .It contains 17 tracks that display again my love for diversity in style and having my own voice. When making music to me all instruments are equally important, they are the building blocks for the arrangement and compositions.


Joop Wolters - Out Of Order
Then the 3rd effort released in 2007. To me personally its my favourite when it comes to compositions and guitar-playing with the album showing a more darker side of me. Hours and Hours I spend on programming drums, besides 2 tracks that have real-drums (Patrick Eijdems, Virgil Donati). For this album I had no budget at all hence the title OUT OF ORDER but the music was there and I was willing to release it anyway in this form..;) received great reviews on it again!! And great public feedback till this day.. I guess the best is to give all 3 albums a spin yourself, it's better to make up your own mind!!



ANY OTHER PROJECTS YOU ARE WORKING ON?
Yes working now currantley on album number 4 the title will be FALSE POETRY. I took few years to compose songs and select the best material. All songs will be with real drums. Patrick Eijdems (joop wolters trio) will have the big part of the setlist playing drum parts..and as an extra for 3 songs I could engage Atma Anur (Cacophony, Jason Becker, Marty Friedman,Bowie, session player) as an extra special guest. This will be my best work to date!!!!
Further I played all guitarparts for the first solo-release of LA-drummer Chris Nalbandian, some great guests on this album (Derek Sherinian,Alex Argento, Vivien Lalu…etc..) I did some musical work in France for a production of the musical LegalY bLonde,,and further a guest-appereance on the debut album of keyboardist Sergey Boykov…...so Stay tuned..!!


Guitars: bo-el guitars 6 and 7 string
Amps: ENGL, LANEY,EGNATER
WHERE CAN PEOPLE GET MORE INFO ON YOU?
PARTING MESSAGE TO THE READERS
Thanks to all that are supporting me so many years even though I'm more underground than most artist! And welcome to all new fans that will give my works some time to discover.. Hopefully we can meet on the road in the future..!!

Cheers and thank you all!
Joop Wolters