JOOP WOLTERS 'WORKSHOP' (LION MUSIC/BERTUS)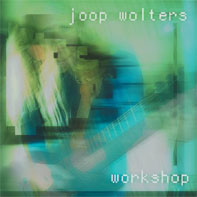 The Dutch band ARABESQUE released a great record last year, and now guitarist Joop Wolters has released his first solo-CD. The album contains good instrumental Rock, which is very guitar orientated. The album has various styles of rock, ranging from heavy groovy stuff ("Tibet" and "I don't know"), funky poppy tunes ("Funk it up" and "Flamoose"), relaxing poppy songs ("Cross my heart", "Prelude for comfort" and "Endless love") and Progressive Metal songs ("Headstart" and "Synthology" – both best songs of the CD, not unlike the last DREAM THEATER). The only pity about this CD is the short
playing length, which barely borders 34 minutes! Anyway, fans of instrumental rock know how to deal with this CD after they gave it a few spins.

(Points: 7.5 out of 10) Strutter Zine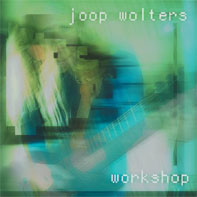 Joop Wolters – "Workshop"
Accessible, catchy, groove oriented with great guitar chops throughout. Joop Wolters is a master craftsmen running the gamut of all out shred to refined fusion. Workshop is a diverse slab of intense guitar playing showcasing a major new talent on the instrumental scene. The songs contained within Workshop are so diverse that the CD should appeal to just about anyone who can appreciate top quality musicianship.
Highlights of the CD include the melodic rocker "Cross My Heart" – an intense ballad like number that builds in intensity throughout, ending with a smoldering solo. Another great rocker with cool Satriani meets Hendrix vibe is the hot "I Don't Know" where Wolters makes great use of the wah, wah delivering a fast driving tour-de-force rocker.
Things slow down for the beautiful "Prelude for Comfort" with its Holdsworthian type jazz fills and melodic structure. My personal favorite of Workshop is "Syntology" where Joop lets his spirit soar, burning up the fret board with super fast and articulate arpegiated runs and sequences that draw from neo-classical and all out shred.
Wolters draws inspiration from the likes of Vai and Moorse, developing a unique very identifiable style that is worthy of recognition. A great technician with an unbelievable sense of timing and melody. Workshop showcases Joops diverse range of ability and introduces a unique new guitar talent.
Guitar Mania
JOOP WOLTERS - WORKSHOP (C+, B) Lion Music, 2003
9 tracks, RT: 33:39
[ wolters41@zonnet.nl ]
[ http://www.lionmusic.com/ ]
The reason for two grades is this: if you are a casual listener and
are not really into guitar instrumental CDs, you will probably rate
this a little above average, but if you are into this style, you will
no doubt recognize Joop's talent and diversity and thus the higher
grade. Joop is a 32-year-old guitarist that hails from Weert, Germany,
where he also teachers music. He picked up his first guitar at age 15
listening to the likes of Thin Lizzy and Rush. Alex Lifeson and Gary
Moore contributed to his early influences. In the early '90s he found
himself covering songs by Steve Morris and Steve Vai. He has a more
"commercial" band called Arabesque complete with vocals. WORKSHOP is a
very diverse collection of songs which I like in an all-instrumental
CD. "Tibet" which opens the CD starts out very heavy with a slow
plodding rhythm and an Eastern Indian sounding guitar harmony. Joop
shows off his speed on this song but never loses the wicked harmony
throughout the song. His guitar is a little scratchy and thin for my
taste but it's not irritating. "Funk It Up" has...you guessed it, a
funky rhythm and Joop just jamming over the top. Very Steve Vai-like.
Track #3 has really grown on me; it's entitled "Cross My Heart." It is
a well-crafted song with pleasant melody and consistent drum rhythm
laying the foundation as the guitar and keyboard-simulated horn dance
back and forth. This is the best song on the CD in my opinion. The
only thing that would have made this song better is a real horn. "I
Don't Know" reminds me of a cross between Jimi Hendrix, Stevie Ray
Vaughn, and Yngwie...it's a groovy ripping, Rock 'N' Roll ditty!
"Headstart" begins with some double bass jamming then transitions to a
mid-tempo beat with a moody heavy background. This song is all over
the place and doesn't do much for me. "Prelude For Comfort" is a
slower number with a rhythm that reminds me of Eric Johnson but a lead
that sounds similar to Larry Carlton. Track #7, "Syntology," steps
things up again with a straightahead drum beat and Joop just wailing
away. While Joop does burn up the fret board, he also bends the hell
out of his notes and really incorporates a great deal of different
styles into his playing. "Endless Love" and "Flamoose" round this CD
out. "Endless Love" is a very atmospheric song, very little drums and
very emotional solo...probably the best on this CD. The fretless bass
is a real nice touch as well. "Flamoose" (I love that name) comes back
to the funky jazz style with some keyboard/guitar trading on and off.
As for comparisons to other guitarists, Joop really is all over the
place sounding like Carlton, Vai, Satriani or any other number of
players at any given time. And hey...he can play one hell of a bass
guitar as well, and he lets you know on "Flamoose." The production is
average I would say, very clear mix with tight bass and drums yet they
have a big room feel. I would love to hear Joop with a world class
keyboardist, drummer, and bass player in a top-notch studio. His
diversity makes him stand out from the rest. Summary: This CD is for
those of you who really like diverse instrumental guitar playing and
don't mind when someone keeps a nice melody or just goes off and
wails. Lots of different styles on this one. - Sean P. Gahgan www.seaoftranquility.com


JOOP WOLTERS - SPEED, TRAFFIC & GUITAR ACCIDENTS (A-) Lion Music, 2004
17 tracks, RT: 63:16
[ http://www.joopwolters.com/ ]
[ http://www.lionmusic.com/ ]
Ever since I heard Joop Wolters on Vitalij Kuprij's FORWARD AND BEYOND disc I've been interested in hearing more of his stuff, so I was happy to recently receive his second solo album SPEED, TRAFFIC & GUITAR ACCIDENTS. Joop is probably best known as the guitarist in the Dutch band Arabesque, and man is this guy an incredibly skilled player! Fans of classy shred guitar are gonna love this one -- just wrap your ears around "Hi-Jacked," "A Day And This," "Beggin' For A Trip To The Stars," or "Funkonexsion" for some mind-blowing fretburning. It's not all technique though; Joop has a really nice touch that translates emotionally and melodically as well. There is a lot of variety to maintain interest and Joop's creativity is through the roof. The only weak area on the album is the occasional use of drum programming, which is well done but gives a few of the segments a somewhat stiff feel. Most of the disc is phenomenal, however, Joop proving himself more than capable of following in the footsteps of Allan Holdsworth, Joe Satriani, John Petrucci and Eric Johnson. Surely one of the best instrumental shred type albums I've heard this year, Joop makes me wish I was a better player. Investigate this without hesitation... -
Neal Woodall (MysticX10@msn.com)
Detritus Rock/Metal e-zine
"Rock Hard With A Purpose"
http://groups.yahoo.com/group/detritus/

Joop Wolters - "Speed Traffic and Guitar Accidents
Joop Wolters comes roaring back with an all instrumental tour de force titled Speed, Traffic and Guitar Accidents. Aptly titled as this storm bringer of a CD is chock full of ripping guitar.
Heavily influenced by the likes of master guitarists Alex Lifeson, Al Dimeola and Gary Moore, Joop Wolters delivers an over the top steamroller of a performance throughout all 17 tracks. Speed, Traffic and Guitar Accidents reaffirms the world that Joop Wolters is a first rate shredder with progressive roots and a predilection for melody and tension within the frame work of emotionally drenched instrumental compositions. A true technical fiend who can rip and tear with the best, Wolters soars where few dare to go.
This is an eclectic mix of diversity that showcases a variety of musical styles that range from progressive, funk, fusion, shred, classical and pretty much everything in between. Many of the songs put forth on Speed, Traffic and Guitar Accidents are in the vain of a Dream Theater or Steve Vai type composition with nods here and there to the classical masters.
Wolters delves deep into his amazing bag of guitar styling and comes up with some very convincing performances. This time around Joop is performing with a seasoned cast of musicians all of whom help him realize his musical vision. The guitar tracks are sonically pleasing with just the right mix between all instrumentation – overall a nice palette of musical textures that transport the listener to the inner sanctum of Joop's mind.
Speed, Traffic and Guitar Accidents is an adventurous release from one of the world's truly underrated and creative musical innovators. No stranger to instrumental guitar, Wolters has been showcasing and refining his mind blowing chops and compositional styling since he picked up the guitar in 1986. Since that time he has developed into a master technician who interweaves intricate musical passages with melodic backgrounds that are rife with feel and passion. Many of today's new guitarists are incorporating strong technical knowledge with emotional integrity and feel - a great combination that is elusive to most. Wolters shines in this department.
All tracks found on this mother of a release are worthy of ones attention – my favorites include:
"Resolute" – a great epic jazzified number with a nice prog-jazz melody that lays the foundation for some amazing over the top solo forays that utilize single note runs, some great cosmic whammy bar bending and a nice smattering of keyboard, guitar interplay.
"Acoustimas" – a heady melodic atmospheric track done on acoustic. Great flamenco vibe with a beautiful flowing main theme. The song builds in intensity until it is full shred ahead with some ripping single note runs and tremolo picking.
"Meka Dance" – a Satriani like funk romp that burns from start to finish and contains a jazzy rhythm background. Joop incorporates almost every guitar technique available to make this tour-de-force a strong showcase for his over all ability.
Wolters is part of the "New World Order" of guitarists who bring a complete package to the table. He incorporates the request palette of shred chops combined with AOR song craft and melodic sensibilities. Wolters is one of those rare musicians who seem to be blessed with god given talents that allow him to deliver a very diverse, emotionally charged offering that combines a wide and eclectic mix of guitar styles. Anyone who enjoys Progressive instrumental guitar combined with over the top melodic guitar textures will really like Speed, Traffic and Guitar Accidents.
Guitar Mania – http://www.guitarmania.ca