CHRIS POLAND - RETURN TO METALOPOLIS LIVE (A-/B+) Lion Music, 2007
8 tracks, RT: 37:30, multimedia section
[ http://www.chrispoland.com/ ]
[ http://www.myspace.com/chrispolandsohm ]
[ http://www.lionmusic.com/metalopolislive.htm ]
[ http://www.lionmusic.com/ ]
Underground favorite RETURN TO METALOPOLIS is arguably one of the best instrumental guitar albums ever, a release that really confirmed Chris as a unique musician and player of considerable skill. RETURN TO METALOPOLIS LIVE offers us a rare glimpse of selected tracks off the album taken from a 1991 performance in Phoenix, Arizona. Chris, along with his brother Mark on drums and David Randi on bass (the three soon to be joined by Dave Clemmons in Damn The Machine), tear through such classics as the title track and "Theater Of The Damned," also offering up a cover of Megadeth's "Wake Up Dead" and including "Khazad Dum" from the RETURN TO METALOPOLIS 2002 reissue. The playing is often fast and furious, Chris displaying a knack for clever note selection, coaxing flurries of fusion-influenced lines from his axe. Also striking is the powerful and intricate drumming of Mark Poland and David Randi's judicious bass presence. To flesh things out the CD includes several recently recorded tracks by Chris' current band Ohm: the relaxed "Pandora," cool fusion workout "Tin Man," and a darkly shot but awesome bonus video of the band performing a new version of "Alexandria," a track on which you can really hear the progression in Chris' playing. Essential for Chris Poland fans, RETURN TO METALOPOLIS LIVE is also a recommended listen for those who would like to bridge the gap between thrash and fusion...
- Neal Woodall (MysticX9@gmail.com)

Detritus Rock/Metal e-zine
"Rock Hard With A Purpose"
http://groups.yahoo.com/group/Detritus/
http://www.myspace.com/detritusezine
Chris Poland
Return to Metropolis (Live) Lion Music
Comments: Perhaps the best instrumental guitar CD of all time, Return to Metalopolis by Chris Poland is being re-released as a live record by Lion Music. What a brilliant idea.

Poland recorded this CD in the end of the best decade for metal the 1980s and it has been re-released several times, but never live. It features the ex-Megadeth guitarist in his entire splendor with some of the best pure metal non-show-off axe work ever heard. Songs crafted so well with such rich metal melodies that you almost feel like you are in Babylon during the 4th or 5th Century B.C. Out of all the beautiful music Poland and company have created before or since, it is certainly his magnum opus.
This version is a live record that includes eight tracks and a live enhanced video version of the song "Alexandria." The first six cuts were recorded live at The Mason Jar in 1991 in Phoenix, Ariz. not long after the release of the record. The seventh track is an unreleased "demo" from the early nineties and the eighth a "B side" track from the first OHM Record. The video was filmed at The Baked Potato club in L.A in 1999.
And folks this is an immediate candidate for record of the millennium.
Poland's playing and tone live is spectacular and he treats the songs with complete respect, reproducing the album versions as close as humanly possible.
There also is a "live" cover of the Megadeth classic cut "Wake up Dead." On this track Poland shreds it up with the best of them and still respects the songs integrity.
Every single song is spectacular so there is no "best" cut on this record but there are some "key" moments. Of these key moments is the sledgehammer riffing and outstanding drums on the fourth track "Psycho Boy." The melody on this song as well is so damn rich you can almost taste it.
The next unique flavored moment is the rocket-fast fingers of Poland on the third track "Khazad Dud," showing he can shred with the all-stars if necessary.
Undoubtedly the coolest chop riff or passage is on the last audio track number eight "Tin Man" where 2:45 in Chris rips up a little mini Wizard of Oz clip of "If I only had a Brain." It is maybe the coolest little nearly undetectable adage in fusion history.
This is a must have for every fan of instrumental guitar, rock and metal music in general. Poland is one of the best axe wielders of our time and this is his quintessential piece performed live. Buy one for every person you know and watch the random acts of kindness begin. www.lionmusic.com

Band Members
Chris Poland-All Guitars , Vocals
Dave Randi-Bass (Track 2)
Mark Poland-Drums
Dave Eagle-Drums (Tracks 8 & 9)
Robert Pagliari-Bass (Tracks 8 & 9)

Track listing:
1. Return to Metalopolis
2. Wake Up Dead
3. Khazad Dud
4. Psycho Boy
5. Nightmare Hall
6. Theatre of The Damned
7. Pandora
8. Tin Man
9. Alexandria (Live Video)

HRH rating: 9.2/10
Poland, Chris – Return to Metalopolis Live


2007 Lion Music

You have to appreciate the musicianship that guitarist Chris Poland has brought to the table over the years, whether it's with Megadeth, Damn the Machine, or Ohm; but one record he released after he left 'Deth, Return to Metalopolis in particular, was the beginning a new era for Poland, who ended up delving in sophisticated & expressive material that stretched the boundaries of thrash metal playing.

Celebrating that release is this archival disc, the appropriately titled Return to Metalopolis Live from 1991 that features eight tracks performed at Phoenix, Arizona's Mason Jar (R.I.P.). His axe attack evokes on thrash fusion, which would take shape later on in both Damn the Machine & Ohm, while carrying his stance of Killing is my Business/Peace Sells with him. Burning through tracks such as "Khazad Dûm," "Psycho Boy," "Theater of the Damned" and the Megadeth cut "Wake up Dead," the material is hard driving all the way through. In addition to the eight live cuts, two bonus tracks & a video encompass the release; "Pandora" is a jazzy demo from the same time period that this concert took place while "Tin Man" is an outtake from the first Ohm record, which leans towards the fusion style. The video is audience footage of "Alexandra," shot in 1999.

With the tight playing and metallic grooves involved, Return to Metalopolis Live is high recommended for fans of Poland. It's a glimpse of where the worlds of jazz/fusion and thrash metal first collided.
Added: May 27th 2007
Reviewer: Tommy Hash www.ytsejam.com
Score:




Chris Poland - Return To Metalopolis Live (Lion Music) By: Joe Florez www.live4metal.com
When I read that a live disc from this CD was going to be pressed, I was completely stoked. I have had Return To Metalopolis (first pressing on Enigma records and since has been re-mastered numerous times) since I found out that it was going to come out back in 1990. This is truly the one instrumental that I can revisit over and over again and never be bored of. It was anything, but pretentious. Sure, Chris dazzles the faithful fans with his intense finger work, but it's never gets dull and he doesn't shred either like the most of the Shrapnel artists (Sorry!). The songs were magnificently crafted and hold up even to this day and makes for a great learning tool for those that want to become future Guitar Gods. With
that said, I couldn't wait to fire this one up. Before I continue any further, I will get this off of my chest. This live recording is from 1991 and it's pretty much the only live recording known to exist. It's pretty raw and isn't slick like many of today's live offerings. If you can get past this, then please read on otherwise go somewhere else.
The first six tracks were recorded at a now defunct club in Arizona. God, I wish I was there. The first cut on here is the title track and everyone is full of energy. Chris throws down some serious riffs along with some melody filled with passion. His brother Mark is tight and slams away. The bass lines are thick and noticeable which I like and during the slow sections it even sounds a little funky and jazzy. As a fan of the record who knows it inside and out, it sounds pretty much note for note like the original. Brings back memories for sure. The one song on here that I wasn't expecting is their rendition of "Wake Up Dead." You heard right. While the music is pretty much spot on for the most part, it's Dave Randi's vocals that kills this. He's no Dave and that's cool, but when he sings, erm, rather screams, it sounds forced and unnatural. While the vocal content is minimal here, I would have preferred if they left it off. Not bad, but not necessary. "Khazad Dum" is a pretty emotional piece of work that you tell Chris doesn't play with his head, but rather his heart because it's actually moving. Towards the end of the piece the band shifts towards a blues vibe to wrap it up. It's pretty cool. "Psycho Boy" is one song on here that I have never heard. The first six tracks were recorded live and even though they aren't melted and spliced together perfectly because there is some dead air between songs it doesn't matter. You have what is the only known recording. Also on here is "Paradise" which is an unreleased demo from the Metalopolis era and a B-side from his latest band OHM along with a CDrom track for Alexandria. Overall, this should be mandatory for all so called guitar freaks and music fans. I have been in on this secret for nearly 20 years now and if you are new to the music scene, then this is necessary not just the live disc, but the studio one as well. You won't be disappointed. I am glad that Lion Music resurrected this one from possible extinction. Essential. www.lionmusic.com | www.chrispoland.com
Chris Poland - Return to Metalopolis 2002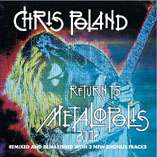 I´ve had no info about this cd when I wrote this review, however, I found out that this album of former Megadeth axeman Chris Poland is a re-release. All the music has been recorded in 1990, a time when guitar heroes had still been top-notch before some silly turntable spastics took their place. Back then the record company failed to promote Chris Poland´s album with the desired efforts, so today Lion Music (who else, man?) took care of this great piece of music once again. "Return To Metalopolis 2002" shows excellent instrumental work in the hard and heavy vein consisting of fine melodies and a (then obligatory, but still cool today) bunch of virtuosity. All together Chris´ sound and tonalities remind me a lot of Vinnie Moore´s "Meltdown" album, though Poland might probably be the heavier of the two. Being a re-release "Return To Metalopolis 2002" comes with two bonus tracks, one of them showing Chris´ Jazz skills in an astounding "Heavy Guitar Jam". Chris Poland who played all the instruments himself (except for the drums played by his brother Mark) proves to be a high-class player and makes his music available for insiders as well as for non-musicians due to the "song character" in his instrumental pieces. Check this out and understand why I hand out 8,5 points. www.medazzarock.com Julian Angel
---
Chris Poland - Return to Metalopolis 2002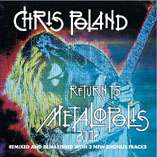 Most people nowadays remember Chris Poland as guitar player for Megadeth in the mid- to late-Eighties, when they released their best material. But metal nostalgics like me still daydream about the day when I say Chris with Damn The Machine opening for Dream Theater, and although mostly ignored by people back then, I always liked their melodic prog metal far better than 99% of pretentious progginess.
In between Megadeth and Damn The Machine, Chris Poland found the time to record one of the most important (maybe even THE most important) metal instrumental album of all time. The year was 1990. Guitar virtuoso like Vinnie Moore and Tony MacAlpine had already recorded long winded instrumental albums with a lot of long guitar solos and classical adaptations, and out comes - all of a sudden - Chris Poland. Thrash metal was still not the big thing, and not only I wondered what a thrash or speed metal musician could add. What many people didn't know was that Chris had already been active since the 70ies as a fusion guitar player, and the original Return To Metalopolis was something the metal world had never encountered before.
The songs were metal, that much was clear, but instead of playing pointless solos, the guitar was something like a voice... maybe without the quirkiness you found these years with artists like Vai or Satriani, but therefore with really excellent songwriting and a refreshing take-no-prisoners attitude. The title song or also the opening track Club Ded are still among the best instrumental album you will find today.
Looking 12 years back into the past, you notice a production that sounds a little dated, but the warmth of the instruments makes up for that. Considering that this was a family affair, Chris' brother Mark playing the drums, Chris doing all the other instruments, it's even more of a marvel. The new version contains two bonus tracks, where above all The Heavy Guitar Jam - a quarter of an hour long - may be interesting for guitar music fans. I have to admit though that although it's a good idea to add 20 minutes of unreleased material, the new songs don't reach the quality of the original material. If I had given 10 points to the original, I "only" give 9 points to the reissue. If you bought this album back when it came out (like I did), you don't really have to get the new version, otherwise this is a must for every person calling themselves a metal fan.
Review from www.disagreement.net
---
Chris Poland - Return to Metalopolis 2002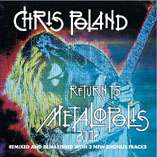 © 2002
Looks like the Chris Poland catalog is getting renewed attention from several outlets. Guitar Nine Records has all three albums for ordering, including Grooveyard Records' release of "Rare Trax" and this Lion Music reissue of the now classic "Return To Metalopolis."
Chris Poland of course earned his fame in the early days of Megadeth. You know, the drugged–out days of Mustaine's empire where the music was rough and furious, but raw and incredible? Poland was a major component to that sound, but after one of Mustaine's temper–tantrums, Poland was pushed out of the band at a time when all Megadeth could do was become more popular. Whether that was a bad thing or not is a question that this collaboration (Poland brother Mark handled the drums) was meant to answer.
"Return To Metalopolis 2002" will no doubt reinstate Poland's old tones and style into your memory; not to mention, remind you how large a portion of the guitar sound Poland played in Megadeth. But this release also pushed aside the Megadeth aura and established Poland as surprisingly true jazz guitar improvisationallist hidden behind a heavy metal hand. While the opening four tracks here don't separate Poland too much from the metal shredding of his peers, "The Fall Of Babylon" and the tracks that follow surely do.
But I must admit that this album did not appeal to me when it first was released. Over time, I grew to appreciate it, but for those of you picking up this reissue for the very first time, the remastered sound will allow you to dive in a lot quicker. The sound quality and presentation on the original CD was just plain horrible, distracting from what was really being offered by the Poland brothers. Here in 2002, the drums are crisper, the guitar is clearer, and the songs just sound much better.
Besides much improved sound production and modernized artwork, this 2002 version offers two bonus tracks: the rough demo feel of "30 Days Due" and the fourteen–minute jazzy metal improv of "The Heavy Guitar Jam." Both truly add to what Poland had to offer the first time this album was released. Neither track is out of place on this disc. In fact, both tracks sound right at home, which is usually not the case with later–added bonus tracks.
And yes, "Heinous Interruptus" (which was a bonus CD track not released on the old cassette versions of this album) is also on this remaster and still at the track four position where it belongs. Good job Lion Music! This remaster was done properly with all the bells and whistles. Although, a note from Chris or a biography in the sleeve would have been nice for the fans!
— by Wes Royer, the Editor www.openupandsay.com
---
Chris Poland - Return to Metalopolis 2002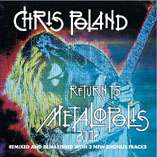 Actually this is a re-release of an album former MEGADETH/DAMN THE MACHINE guitarist CHRIS POLAND released some time ago. The new version has 2 bonustracks, and for those who missed the first release, this is a good opportunity to purchase the new version. The music on 'Return to Metalopolis 2002' is instrumental Hardrock with some Progressive Metal and Bluesrock influences here and there. This is definitely a quality release, but like many other instrumental albums probably only interesting for fans of this genre. On the other hand, if you never heard an instrumental record, then this is a good way to start…
Strutter Webzine (Holland)
(Points: 8.0 out of 10)