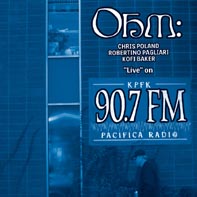 OHM - "LIVE" ON KPFK 90.7 FM (B+) Lion Music, 2004
11 tracks, RT: 40:13
[ http://www.chrispoland.com/ ]
[ http://www.lionmusic.com/ ]
Original (and apparently current) Megadeth guitarist Chris Poland is a
musician who clearly knows his way around a variety of styles;
throughout his career he has produced prototypical thrash metal with
Megadeth, alternative-tinged hard rock with his band Damn The Machine,
exceptional instrumental guitar shred on his solo outing RETURN TO
METALOPOLIS, and recently jazz-rock fusion with his band Ohm. Ohm
features 10 tracks recorded live at public radio station KPFK 90.7 FM
in Los Angeles for the specialty show "Travel Tips For Aztlan," with
one bonus track ("Jam For Tony") recorded for Tony Palcovic's show on
KSPC radio 88.7 FM. Delivering precise and hypnotic instrumental
fusion, Ohm will likely appeal more to those with an ear for jazz, as
the compositions prominently feature clean, complex chord arrangements
punctuated by some incredible bass playing (compliments of bassist
extraordinaire Robertino Pagliari) and masterful drumming (provided by
Ginger Baker's son, Kofi). Chris Poland is a unique and exciting
guitarist, mixing rock lines with jazz and blues to create a memorable
experience. Ohm starts off a bit relaxed and may seem a little
ponderous to those not familiar with jazz but give this a few spins
and the brilliance will become quite apparent -- check out "Icarus
Falls," "Iguana," "Id," or "Where's My Hat," to hear some really
inspired playing. This leans more towards the jazz side of Poland's
personality, so don't expect metal on this one; you can, however,
expect high-quality, innovative music. Don't miss it... - Neal Woodall
(MysticX10@msn.com)

=====
Detritus Rock/Metal e-zine
"Rock Hard With A Purpose"
http://groups.yahoo.com/group/detritus/

Ohm: Live at KPFK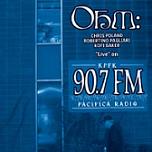 OHM, what a kind of a name. Is this the next band after TESLA who wants us to learn the principals of electrical engineering? Not really, OHM is the newest baby of Chris Poland. He's already well known as the leadguitarist on the two first MEGADETH albums. He's also contributed some solos to the forthcoming Dave Mustaine album. But however, don't expect a Speed Metal album. Far from it! Chris Poland does what he did before and after MEGADETH, which is Fusion-Jazz-Rock. And OHM "rocks" at the highest stage. Together with Roberto Pagliardi at the 6-string fretless bass and Kofi Baker at the drums, they let off a firework of solos, nested grooves and wicked melody lines. They let your ears glow. As sure as fate, this is no background music. First it will tick you off and second, it doesn't give justice to this top cracks. Here is the whole attention demanded. But if you open your mind, you will be surrounded by a musical cosmos full of virtuosity and musicality. As a matter of course it's far away from being mainstream, but fans of Progressive-Rock for whom DREAM THEATER form the lower edge of the spectrum, RUSH is standard level and SATRIANI much too simply and commercially, this is for you. For all jazzmaniacs, listen carefully, you will love' it. For all the others, have an ear for OHM and expand your musical horizon. 8 points www.medazzarock.com
OHM: Live on KPFK 90.7 FM-Pacifica Radio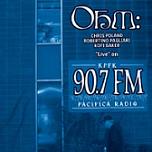 Recorded "live" on the air at KPFK Radio 90.7 FM in Los Angeles comes this smokin' set of molten hot fusion from OHM. As of Auguest 2003 when this show was recorded, the band had just added Kofi Baker (son of Cream's Ginger Baker) to the drum seat, and they were literally firing on all cylinders, and gearing up for a tour with Alex Skolnick's Bop Trio and Marty Friedman's solo project. The set comprises some tunes from the debut album, as well as some new songs, all blistering stabs of melodic instrumental madness.

Chris Poland has developed into one of the most accomplished guitarists around, as his ferocious metal chops have mellowed over the years and taken on a funky, jazzy edge. His lethal yet melodic licks soar over the intricate rhythms of "Photograph", and take on an aggressive fusion stance on "Came to Believe." Fans of Allan Holdsworth will love the sustained chord voicings of "Peanut Buddha", a melding of jazz and hard rock that sees Robertino Pagliari's bass popping all sorts of wild harmonic bursts under Poland's thick rhythms & wild solos. Pagliari and Baker trade intricate jazz riffs on "Icarus Falls" under Poland and his searing lines, which are so rich in tone and technique they will leave you speechless at times. Combining speedy arpeggios, emotional blues runs, and frantic whammy bar mutilations, this guy has it all!

Pagliari is all over the place on the Mike Stern-meets-Allan Holdsworth "Iguana", a song with a killer melody and complex bass and guitar work. For a funkier change of pace, there is the fun "Tara", a real workout for the boys where they get to show off their chops yet also lock into a deep groove. Throw in a little hard rock/metal on the blazing "ID", and some searing, Robin Trower/Jimi Hendrix on steroids with "Jam at Tony's", an absolutely smoking vehicle for Poland's amazing guitar work(in fact check out the bands homage to "Machine Gun" here.) This tune was recorded on a different radio show, that being KSPC 88.7, and the band shows a little looser side to themselves, but no less fired up musically.

For outstanding guitar, bass, and drum work in a tight ensemble fusion framework, things don't get much better than this. Too words for ya...get this!

Track Listing
1) KPFK Intro/M. Torres
2) Terra Incognita
3) Came to Believe
4) Photograph
5) Peanut Buddha
6) Icarus Falls
7) You Don't Know
8) Iguana
9) Tara
10) ID
11) Where's My Hat?
12) KPFK Outro: Mark Torres
13) KSPC Intro/T.Palkovic
14) Jam at Tony's
15) KSPC Outro

Added: March 17th 2004
Reviewer: Pete Pardo
Score:






www.seaoftranquility.org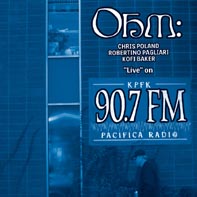 Ohm: "Live" on KPFK 90.7FM Pacifica Radio Lion Music

I have to admit from the start that I'm not familiar at all with Jazz/Fusion
music, in fact this is my first foray into the genre so I have nothing
really to judge this against. If I had to make a comparison, as an extreme
metal fan, then this reminds me of Death-Jazz bands like Atheist and Theory
In Practise with the 'metal' parts of their sound (i.e. the double bass
drums and distorted guitars) stripped away but that's not to say that this
is minimalist music, indeed the level of musicianship on offer here is of
the highest order.

There is a danger that with this level of musicianship the song will be
forgotten and things will collapse into a mess of aimless technique but
ex-Megadeth guitarist Chris Poland shows that there's more to his game than
the thrash shredding he made his name with, by playing some incredible
melodies whilst bass player Robertino Pagliari and Kofi Baker (Ginger
Baker's son) improvise around him and anytime you think they're about to tip
over the edge they'll lock into a groove and bring things back.

This album was apparently recorded live, straight from the monitor board
onto 2 track tape, at a radio station but the sound doesn't suffer from not
having a 'bigger' production, in fact it helps because it allows the
instruments to speak for themselves without the benefit of an expensive Pro
Tools mix.

It's hard for me to pick out any particular songs as this album works best
as a whole, with the occasional song intro by DJ Mark Torres giving the
whole thing the feel of listening to a great house band in a smoky club
somewhere, in fact his voice and presentation style amusingly remind me a
lot of Louis Balfour, the Jazz Show host from BBC TV programme 'The Fast
Show'. I half expected him to say 'niiiiice' at any moment.

All in all a thoroughly enjoyable listen and it's definitely sparked my
interest in a style of music I knew nothing about beforehand.
****
Neil Woodfin


OHM - Ohm
13 songs
54:03 minutes
***** *****
Lion

Bandpage

Chris Poland was one of the first metal guitar players who not only found his very own style (which admittedly many had back then), but who also dared to take the step to record an all-instrumental solo-album - Return To Metalopolis - as early as 1990. Now that this milestone has been re-released last year on Lion Records, people probably must have been hungry for more Poland stuff.

The name Ohm has been running around for a couple of years already, and it was known as Chris Poland's fusion band with which he played often dynamic live performances in the United States. We Europeans had to wait until 2003 until their debut album was finally released, but it was well worth it. Where his early solo music was still quite metallic, Ohm is a fusion band through and through, but probably you have never heard anything like this before: the ingredients may be typical, you get Poland's virtuosic guitar playing, accompanied by Robertino Pagliari's genial fretless bass guitar and David Eagle's complex drum patterns. It's as if three perfect musicians have found each other with the determination to reinvent fusion jazz rock. Instead of falling into stereotypes, this three-piece works to craft soundscapes that immerse you totally in a sonic dreamland where you don't want to wake up from anymore.

It's an instrumental album, but unlike many others, you never even wish for a vocalist to take over things. These three musicians are so at ease playing with each other that listening to their songs is pure pleasure. Take a bit of Seventies fusion, a bit of Eighties experimental King Crimson, plus the occasional hardrocking sounds of the Nineties, and you get Ohm for the new millennium. This is not a near perfect album, this is truly perfection as you won't come across too often these days. I love this album, and if you really want to listen to something soothing and agitating at the same time, I suggest you get this album right away. One of the best instrumental albums of all time. 10 points.

review from DisAgreement, Luxembourg: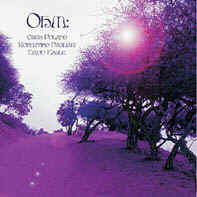 OHM:
Poland has carried on that Jeff Beckian fusion era in riffage phrasing, voicings of his axe, and overall feel. You will also hear the heaviness of Leslie West's Mountain in places. Compositions are relatively unique and engaging and oddly enuff for what I was expecting (after his Chasing the Sun) -- Poland doesn't dominate the arena. His solos are evenly balanced, layered in nicely with the compositions, in fusion unison lines, great rhythm crunch and chordal flow, with only medium length explosions of soloing.

The album is very unified in feel with essentially no filler cuts. Each song offers a treat here and there. You will hear Beck, West, Hendrix outbursts, nods to E. Johnson and echoes of Lukather, (but he's a Jeff Beck type axeman too). When Poland uses whacked-out effects, ring modulators, and Henderson-like, (Rocket Science era), crazy-axe, weirdisms that more modern 21st century fusion feel breaks through.

If one thing is clear the real WOW factor and star of this release is bassist Robertino Pagliari on 6-string fretless --WHOA! Sweet stuff, really came outta nowhere this guy. I believe it's his fluidly structural and lively punch-n-groove textures that hold OHM together so impressively. David Eagle's percussive excellence cannot be ignored either. Put Poland in the mix with his unpredictable pyrotechnics, many change-ups, and OHM is a winner. (This is new fusion that challenges expected borders and is actually an enjoyable listen vs. an obtusely meandering avant garde blow-fest.)

My fav tracks in order of overall excellence in order of "personal taste" were: "Mountain", "Peanut Buddah", "Brandenberg Gate" and "Orange". OHM's debut is a recommended listen for all fusion fans and a must-have for fusion bassists! ~ John W. Patterson, EER-MUSIC.com
OHM (B) Lion Music, 2003
13 tracks, RT 54:01
[ http://www.chrispoland.com/ ]
[ http://www.lionmusic.com/ ]
Perspective: I have been wanting to put this review together for a
while but had really wanted to give this disc the time it deserves to
sink in -- that's because I appreciate so much what Chris Poland has
previously done in Megadeth, Damn The Machine, and his first solo CD,
RETURN TO METALOPOLIS. I am not familiar with his CHASING THE SUN and
limited edition RARE TRAX. Review: Those of you only familiar with
Chris Poland's Megadeth contributions need to know that Ohm is not a
Metal band. Now don't get me wrong, I love Megadeth, but Chris only
sprinkled some of his talent onto their recordings in his brief tenure
with the band. Accompanied by Robertino Pagliari, on the six-string
fretless bass, and drummer David Eagle, these three top-notch
musicians craft an interesting breed of Rock Fusion very reminiscent
of the Mahavishnu Orchestra. Chris integrates many different styles of
guitar playing onto this release ranging from blues to metal to jazz
to shred; Poland can play it all. But Chris' playing is not the only
highlight of this disc: this rhythm section simply smokes, David and
Robertino are world class musicians laying down subtle grooves to
intricate counter rhythms. It's amazing to note that all of the drums
were laid down in one take! That's incredible! Ohm have a good
selection of slow- to mid- to fast-paced songs, and for
progressive/fusion music, there is a great deal of melody in these
songs. The production is good and everything is very pronounced and
has a very live feel to it. Summary: Anyone into Fusion Rock and
superb musicianship will appreciate this release, though it's not for
the casual listener; there is some serious musical substance here that
fans of guitar rock should like. - Sean P. Gahgan (lof@earthlink.net)

=====
Detritus Rock/Metal e-zine
"Rock Hard With A Purpose"
http://groups.yahoo.com/group/detritus/
OHM: OHM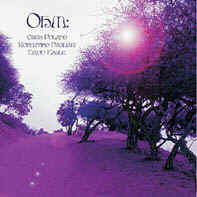 Here's a hot new instrumental CD that should prove to be of great interest to fusion, metal, and prog fans alike. OHM is comprised of Chris Poland (ex-Megadeth, Damn the Machine) on guitar, Robertino Pagliari (Steve Lukather, Frank Gambale) on bass, and drummer David Eagle (Oingo Boingo, Alphonso Johnson, Jan Akkerman, Gary Hoey.) The thirteen tracks that make up OHM's self-titled debut all feature complex yet melodic passages of jazz-tinged funky fusion mixed with metal aggression, which should appeal to fans of Allan Holdsworth, McGill/Manring/Stevens, Brand X, Mahavishnu Orchestra, Steve Vai, or Joe Satriani.

Tunes like the melodic "Love Song" features just enough jazz flavor to balance the obvious metal chops of guitarist Poland, who pulls out all the stops with some gorgeous and emotional lead lines, littered with the right amount of speed and flash. On "ID" or the rhythmic "Where's My Hat", the band opts for a highly complex and heavy fusion vibe, with all sorts of twists and turns, stops and starts. Bassist Pagliari has a weaving and vocal tone, most reminiscent to Percy Jones, Michael Manring, or the late Jaco Pastorius, and his yearning lead lines grab your heart on the emotional track "Came to Believe." He also lifts a song like "Iguana" into Weather Report-like territory with his slippery Pastorius influenced bass fills, while drummer Eagle's busy beats provide a solid backbeat to the fluid lead guitar melodies of Poland. The guitarist really shows what a versatile player he is on "Bastille Day" (no relation to the Rush song), as his thick legato style is accentuated with lightning quick arpeggio runs, whammy bar twangs, and an overall keen sense of melody.

Without a doubt this is one of the best releases on the Lion Music roster. The synergy between these three players is amazing to hear, and I am quite impressed to hear the maturation of Chris Poland as a dynamite fusion guitarist. Bravo!

Added: April 2nd 2003
Reviewer: Pete Pardo
Score:




Sea of Tranquility


OHM - OHM (Lion Music)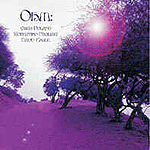 OHM
OHM
Lion Music

Megadeth. There…I've officially gotten the obligatory "Megadeth" reference in on this Chris Poland release, since it is some type of rule to do that in every review he's ever had. So there it is – Megadeth. Now let's move on.

OHM is a cool rockin'/fusion project featuring guitarist Chris Poland, bassist Robertino Pagliari and percussionist David Eagle. In many regards, this is a stripped down project as fusion goes, yet it packs so much of a punch musically that you have to stand up and pay attention to it!

From the opening notes of "Peanut Buddha", there is little question that Poland has found his true calling with this project; or more specifically this kind of music. Poland is a tremendous player who really shines brightly with OHM. The true beauty to any guitarist in this genre is his or her ability to create ambient moods when playing. Without question, Chris Poland has the God given ability to do just that. Be it the frenetic pulse of "Where's My Hat" or the alluring moan of "Love Song", Poland brings the appropriate sound and style to the track. And while he showcases the ability to play a zillion notes in a single bar of music from time to time, he doesn't come across as a skilled musician that lacks songwriting ideas, like an Yngwie J. Malmsteen, for instance. As a player, Poland has the skills and shows them off with OHM.

Equally impressive is the playing of the "accompaniment". Robertino Pagliari is a superior bass player who mixes an almost guitar-like style into songs like "Came To Believe". Not surprising on a rocked up fusion album, Pagliari is a gifted player who shines in spite of the development of each song around the guitar. Always impressive, drummer David Eagle has a distinct ability to tap and rap along with each and every song, acting more as musical development than as a simplistic timekeeper. Each member of this collaboration brings a unique aspect to this release, but it's as a whole where they shine the most. This is one of the most cohesie records of the genre I've heard in years – one that doesn't start out fast and get boring as you continue to listen. Songs like "Search For The Suicide King" and "Ohmage" are every bit as interesting at the end of the record as material like "Peanut Buddha" was at the beginning.

PITRIFF RATING – 9/10 – I hate fusion by nature, but love this record! The collaboration known as OHM is the real deal, and a very worthy listen to not only the fusion, but the fan of music as well.

Chris Akin / Pitriff.com




Added: April 9th 2003
Reviewer Chris Akin
Related Link: Chris Poland Official Website
Hits: 4
Language: english
Score:




OHM – "OHM" (Chris Poland / David Eagle / Robertino Pagliari)
Chris Poland has teamed up with fusion monsters David Eagle (Drums) and Robertino Pagliari (Bass) to produce a highly eclectic fusion adventure. You will all remember Chris Poland from his heady days as guitarist with Megadeath. Chris has matured and "OHM" is what happens when a gifted musician moves to a higher level of musicality. This new CD is packed with some of the finest and widely diverse fusion/Jazz Rock compositions this side of Zappa. At times I am reminded of other fusion super groups like Weather Report, Return to Forever or the mighty Mahavishnu Orchestra – some fine company indeed! Poland and crew are all well seasoned musical giants who bring a diverse melting pot of styles to the mix. Everything is here from technical brilliance, quality production to mind boggling composition structure – all that makes this type of music so cool! Poland is nothing short of genius with jaw dropping technical abilities that still showcase him as a guitarist with something important to say. Chris has complete control over the guitar and presents himself as a superior player by providing some fresh prospective on Jazz - Fusion influenced licks and structures. Haunting melodies, counterpoint structure, funk grooves and just plain weird passages all grace OHM All the compositions are written with uniqueness in mind. Poland and crew are keen on keeping the listener on their toes with plenty of twists and turns. Highlights include:
- "Bastille Day" with its free flow feel and great fretless bass lines. Poland intermixes his metal sensibilities with a jazzier flare – delivering a jazz-rock masterpiece.
- "Mountain" crystal clear guitar lines intertwine with distorted forays into the abyss. An ultra heavy jazz rhythm groove with some super fast arpegiated sequences that breathe fire.
- "Ohmage" hyper funk-groove-slamming-fret burning way cool jazz-fusion extravaganza, a fusion lover's smorgasbord!!
OHM are to good of a band to be over looked. In today's musical world of overproduced, over manufactured and over marketed tripe, OHM are a refreshing foray into what is truly possible when three musical giants, who can actually play there instruments, unite to make music. This entire CD should slay the masses in jazz-fusion circles worldwide - a masterpiece of creativity and originality.
Guitar Mania - http://www.guitarmania.ca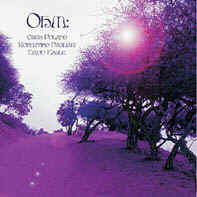 OHM:
LMC069 Lion Music (2003) http://www.lionmusic.com
Formed around former Megadeth guitarist Chris Poland, along with bass
player Robertion Pagliari and drummer David Eagle. Do not expect
Megadeth.but instead you get some well played jazz rock fusion with a
metallic edge.
Highlights include 'Love Song' and 'ID', both tracks benefiting from
crystal clear percussion and the slow guitar soloing on 'Sister Cheryl'.
'Mountain' sees Pagliari's bass to the fore mixed with some neat guitar
breaks.
The whole album could be an updated version of the classic 70's act the
Mahavishnu Orchestra, albeit with a heavier guitar sound. If you want a
change form all out metal/rock and/or enjoy jazz rock/fusion music you will
thoroughly enjoy this album.

Classic Rock Newswire -