AUGUST 16, 2013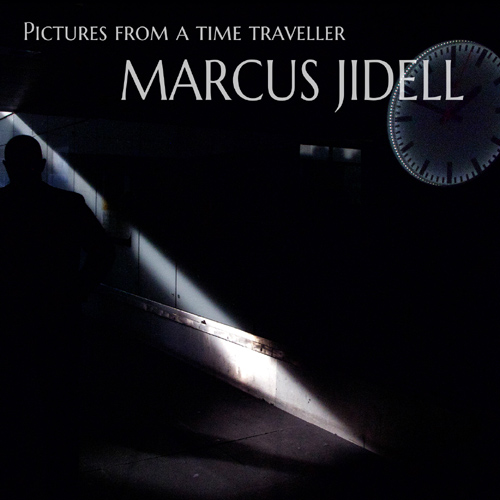 "Pictures From A Time Traveller", the incredible debut instrumental album from Evergrey guitar-master Marcus Jidell features 7 tracks of outstanding, diverse and top shelf virtuoso guitar excellence and gets its digital release on 16 August 2013 via Lion Music.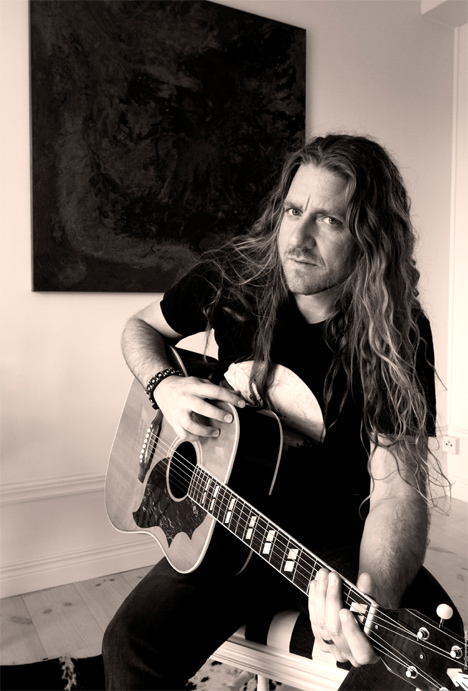 Marcus Jidell is one of the most respected metal guitarists to have come out of Sweden since Yngwie Malmsteen. With a guitar style that has won him universal acclaim, Marcus is a current member of one of Sweden's biggest and hardest touring metal acts evergrey, and previously has worked with prog-metallers Royal Hunt.
Marcus has a very personalised sound, extremely heavy at one end, yet extremely melodic at the other, all the time with a superb feel for phrasing and originality of song craft, and its these traits which are evident throughout "Pictures From A Time Traveller". On his goal for the album Marcus comments, "I wanted to make an instrumental album that was more then just shred. I wanted to make compositions that were interesting to listen to even if you're not a guitar player. In short, I wanted to write good music with electric instruments that didn't sound like anything I heard before".
Whilst there is no doubt this is a guitar album, "Pictures From A Time Traveller" has its own unique voice boasting incredible utilisation of dynamics and a variety of styles all of which paint a vast number of picture in the listeners mind, something Marcus was keen to express whilst writing, "When I write I see a lot of pictures and colours and that's what I've been trying to make the listener feel. If you listen carefully to 'Arctica' for example you might feel the cold wind, the ice and snow, the silence of the Arctic winter that suddenly breaks when you discover the big polar bear that has been sneaking upon you.. And you start to run".
Joining Marcus for the album is a stellar cast of backing musicians including his fellow Evergrey band mates Hannes Van Dahl and Johan Niemann, keyboardists Andre Andersen (Royal Hunt) and Rickard Nilsson, Svante Henrysson played some cello (ex Malmsteen), vocalist Jennie-Ann Smith (Avatarium) added some backing vocals and even Marcus'father Rolf Jiddel threw down some cello. Marcus says, "I had the privilege to have some great musicians playing on this album and every one of them really put in their own feel in the songs which really made the songs grow! On some of the songs I play everything except the drums. But I think that it is a great thing to put in other musicians now and then in the recording process, to get some fresh ideas and widen your view. Svante Henryson really put in some magic with his cello for example".
The origins of "Pictures From A Time Traveller" date back some 8 years from some demos Marcus put together in 2005. Then in 2008 began recording drums for the songs with Andreas Johansson. But Marcus wasn't happy with the results, "I worked for a month with the songs but just couldn't get the feel and sound I was looking for working by myself and without the knowledge and studio equipment that I needed, so I just got tired of it and stopped the process".
In between touring Marcus continued to work with other studio productions for Royal Hunt and Evergrey which saw his knowledge improve in how to record and mix music.
Then in 2012 everything fell into place; "I found the old recordings and listened to the songs and felt they were rather good and it relit the fuse. I started to work on the songs again to finish the recordings that Andreas had played drums on. We used the drums we recorded 5 years ago on 3 of the songs but we had to re-record drums on 'Huldra' to get the groove right. That had nothing to do with how Andreas played originally but how it was recorded. While on tour with Evergrey, Hannes Van Dahl and I talked about him playing on some songs on the album too, so when we found the time we recorded those. Hannes plays drums on two of the songs and did a great job. Andre Andersen, Svante Henrysson, Rickard Nilsson, Jennie-Ann Smith and my father Rolf Jidell all helped me to make this album something special and I am thankful for their input".
MARCUS JIDELL – PICTURES FROM A TIME TRAVELLER SEES DIGITAL RELEASE VIA LION MUSIC ON 16 AUGUST 2013.



Born in Stockholm, Sweden on September 11th 1973, Marcus was raised in a big family where everybody played music, it came natural for him to start playing an instrument himself, so he picked up the cello at the age of 8. A bit later he was chosen to be a member of the Stockholm Opera children's choir as well. When Marcus was about 13 he fell in love with the sound of electric guitars -after listening to albums by Deep Purple, Led Zeppelin, Jimi Hendrix and Yngwie Malmsteen. Marcus is a musician with a lot of different influences, because of that he has mastered styles like, hard rock, metal, blues, soul, rock, country, latin, Swedish folk music and a lot more.


01. Arctica
02. Huldra (Ruler of the Forest)
03. Tesla World System
04. Rei Zan
05. El-Amarna (Ruins of Akhetaton)
06. Space Dog
07. Wedding Song


Marcus Jidell - Guitar, bass, piano ,cello, keyboards, percussion.
Svante Henryson - Cello
Andreas Johansson - Drums
Hannes Van Dahl - Drums (#4,6)
Andre' Andersen - Keyboard solo (#3) Rolf Jidell - Cello (#1 ,7)
Rickard Nilsson – Hammond (#3)
Johan Nieman - Bass on #1
Jennie-Ann Smith - Additional vocals (#3)


Produced by Marcus Jidell
Recorded and Mixed in "Damage Done Studio" by Marcus Jidell
Drums on 1,2,3,5 recorded by Andreas Johansson at Habo.
Drums on 4,6 recorded by Hannes Van Dahl at Nemesis Studio
Mastered by Magnus Bergman at True Sound of Truth Studio
Pictures by Steff Granström