Docker's Guild is the solo effort of Douglas R. Docker, who put his talent and writing skill into "The Mystic Technocracy", a progressive rock space opera which unfolds over 5 seasons. "Season 1: The Age Of Ignorance" sees release via Lion Music on 15 June 2012.



Docker's Guild, The Mystic Technocracy's first season, entitled "Season I: The Age of Ignorance", sees the participation of worldwide acclaimed musicians like Gregg Bissonette (David Lee Roth / Joe Satriani), Magnus Jacobson (Miss Behavior), Tony Franklin (Blue Murder), Guthrie Govan (Asia), Jeff Watson (Night Ranger), John Payne (Asia), Göran Edman (ex Yngwie Malmsteen, Karmakanic), Amanda Somerville (Avantasia / Epica), Tony Mills (TNT/ Shy) and many others and sees release through Lion Music in June 1012.
Docker's Guild, even if inspired by progressive masters like Yes, ELP, Dream Theater and Genesis, lives on its own sounds which is a very personal mixture of progressive roots played and crafted by mainly AOR musicians.
The Mystic Technocracy is a new and exciting science-fiction story and music project that has been in development for a number of years. It is the fictional outcome of a very simple observation: for 4000 years man has tortured, murdered, waged warfare and committed genocide in the name of the same God worshiped by Christians, Jews and Muslims, the three monotheistic religions. It is not a story against religion, but it is a story about the madness of man when he falls under the influence of fanatical dogmatic faith. This religious premise has then been plugged into a science-fiction universe, in which religion was created by a silicon-based life form, the Mystic Technocracy, in order to control, manipulate and eventually destroy humanity.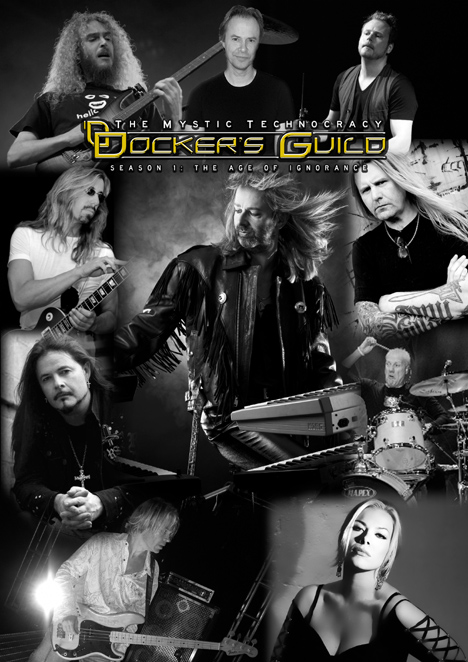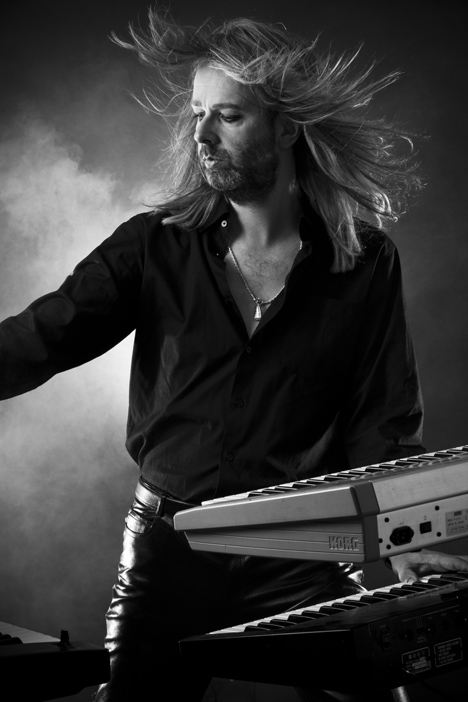 The sound of The Mystic Technocracy results from the mixture of several music styles. Progressive rock is the main driving force, with Yes, ELP, Dream Theater and Genesis being particularly influential. The songwriting and vocal arrangements have also been inspired by melodic rock and AOR acts, mostly Asia and Journey. More subtle and unusual influences come from Duran Duran, David Bowie, Jean-Michel Jarre and obscure French space-rock act the Rockets. The project therefore contains complex multi-section suites, more straightforward rock songs or ballads, as well as more unusual instrumental or groove-oriented tracks.
On The Mystic Technocracy, Douglas Docker comments, "If you like TV series and 1930s serials like Babylon 5, Space 1999, Flash Gordon and Buck Rogers, this is for you. If you like progressive rock bands like Yes, ELP and Dream Theater, AOR bands like Asia and Journey as well as Duran Duran, David Bowie, Jarre and The Rockets, this is also for you. If you have, like me, a healthy dislike of fundamentalism, and blind dogmatic faith, and spend lots of time wondering why so much pain and destruction can be generated by religions whose main goal is supposed to be love and compassion, then this is definitely for you".
The music is mainly keyboard-oriented and Douglas's fine instrumental work is inspired by musicians like Geoff Downes, Gregg Giuffria and Keith Emerson. The album is a 79 minutes long opera, 10 songs among which 2 long suites, in the perfect tradition of progressive masters' albums from the past.




01. A Matter Of Energy.
02. The Mystic Technocracy.
03. Darwin's Tears.
04. Norse Cosmogony (Part 1).
05. Norse Cosmogony (Part 2).
06. Judeo-Christian Cosmogony.
07. The Divine Comedy.
08. Legion Of Aliens.
09. Loving The Alien.
10. The Gem Of Love.
11. The Secret of DNA (Part 1).
12. Purple Orb.
13. The Secret of DNA (Part 2).
14. Prophecy.
15. Black Swans.


Douglas R Docker: Keyboards, lead vocals, backing vocals, spoken voice.
John Payne: Lead and backing vocals.
Göran Edman: Lead and backing vocals, spoken voice.
Tony Mills: Lead and backing vocals.
Amanda Somerville: Lead and backing vocals.
Guthrie Govan: Guitars.
Jeff Watson: Rhythm and lead guitar, 12-string guitar.
Gregg Bissonette: Drums.
Magnus Jacobson: Drums.
Tony Franklin: Bass.
Donald D. Docker: Alto and tenor sax, clarinet, spoken voice.
Additional spoken voices:
Silvana Momigliano / Touria Nouri / Andrea Rampa / Janthana Rodjakkhen / Davide Ronfetto.



LMC325
EAN64199220033251



www.reverbnation.com/dockersguild



• Top-notch progressive rock space opera in the vein of Star One, Ayreon and progressive masterpieces like Close to the Edge, Selling England by the Pound and first records by Asia •
• World-class performances by the likes of Amanda Somerville, Gregg Bissonette, Magnus Jacobson, Tony Franklin, Guthrie Govan, Jeff Watson, John Payne, Göran Edman and Tony Mills •
• Docker's Guild can easily become a reference point in the progressive scene. The album stands for its songwriting, vocal arrangements, superb keyboards work and the deep and well-structured concept •
• Class-A mix by Simon Hanhart, producer of Asia, Marillion and Arena •
• Mastered by Mike Lind (Dio, Talisman, Candlemass, Edge of Forever, Moonstone Project) •
• Superb visionary artwork by Carl Andrč Beckston of Monowasp Design •