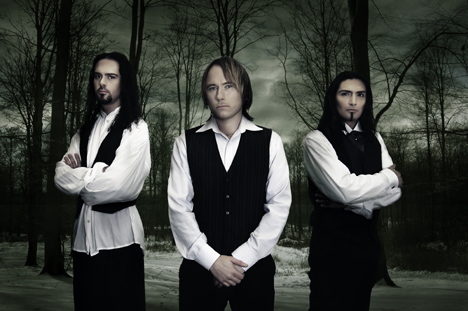 Following swiftly on the back of 2006's lavishly acclaimed 'Walking On H2O', Swedish progressive metal masterminds MIND'S EYE return with their most ambitious and accessible album to date in "A Gentleman's Hurricane". Taking their musical and lyrical vision another step on, the band has delivered the world's first cinematic metal triple pack consisting of CD / Comic Book and 'making of DVD' which portrays the bands latest concept:
In a dark and foggy day in September, three shots are heard in the deep dark woods of "The Mother Of Presidents" state of Virginia. Adam Evangelista, a 53 year old top assassin whose ice cold walls have now been worn down by his continuing growing guilt, searches for an answer to it all. Acknowledging that he can't continue without finding a way to ease his mind, he seeks refuge at the town's church where Adam meets the now retired head priest Father Cavallero Di Mori, coincidently visiting his old church and parish. Adam tries to get into the depths of his own disturbed but genius mind. Describing his life and assassinations for his new friend Father Cavallero during sessions of confessions, both men reveal deep secrets unknown to the outside world - dark secrets they are both ashamed of. Adam's sins and stories stretch from Sweden, Ireland, Italy, France, to the former USSR , Mexico and the USA. Taking orders from the well known secret society 'The Illuminati', Adam's "marks" are some of the most important people in our time. But there is a catch; only seven days to poor his heart out before his very last job and time is running out.
Twelve Murders in Seven days. So little time… So much to tell…
"A Gentleman's Hurricane" is a musically and lyrically rich affair offering a quality of storytelling not heard on a concept album since Queensr˙che's 1988 classic "Operation: Mindcrime". "A Gentleman's Hurricane" showcases delicious vocal melodies over rich infectious musical hooks which will appeal to fans from all corners of the rock/metal market. Each track makes an equally strong statement as a single entity as when heard in context of the story.
The Swedish power trio of Andreas Novak (vocals), Johan Niemann (bass, guitars) and Daniel Flores (drums, keyboards, executive producer) have delivered a truly dazzling album that is set to beat the lavish critical acclaimed garnered by "Walking On H2O". "A Gentleman's Hurricane" album artwork and comic book have been produced by leading graphic artist Mattias Norén visualising the concept and music written by Daniel Flores adding further flair and depth to the story.
Additionally the band have produced their first promotional video for the track "Feed My Revolver" (produced by Fredrik Englund and Viktor Blanke of AWOL) which features stunning visualisation depicting the story of Adam Evangelista in the lead up, execution and aftermath of one of his key "marks". The promotional video clip is highly original and has caused a tremendous response since its appearance on the bands myspace profile (www.myspace.com/eyeofthemind) in May 2007. This clip can be seen on the accompanying "Making of A Gentleman's Hurricane' DVD (offered in PAL and NTSC formats which offers an insight into the production and writing of the new Mind's Eye masterwork.




• "A Gentleman's Hurricane" is the world's first triple pack release with a comic book to illustrate the concept storyline and a DVD chronicling the making of the album, allowing the fans to get right inside the albums concept and gain an insight into how the band work in the studio.
• "A Gentleman's Hurricane" is the heaviest Mind's Eye album to date. The album sees heavy yet melodically accessible tracks which feature all the bands trademarks and a few new twists.
• Album showcases at select elite website.