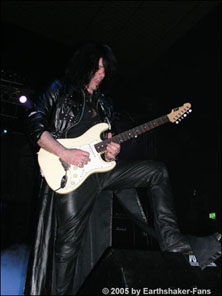 Joe Stump is one of the most intense and over the top rock guitarists known to man. His maniacal guitar releases are bombastic displays of shred. Joe continues to assault the world showcasing his amazing power and technique. Proclaimed by most music experts as the ultimate guitar monster, he was recently voted one of the top ten shredders of all time in Guitar One magazine.

The release of Joe's seventh instrumental CD , Speed Metal Messiah marks the Shredlord's finest hour. Living up to the hype of the title , Joe delivers the goods on this his best recorded work to date. "Speed Metal Messiah is notches above anything I've ever done in every facet" , Joe proclaims. "Playing -wise, compositionally, production, tone and emotion , all aspects of this record are as close to my final vision as anything I've ever released".

In addition to all the intense playing, insane shredding and baroque induced fret -frying , Speed Metal Messiah is also packed with great melodies, cool grooves and killer riffs. Words like Godlike, maniacal, complex, emotional , shred master, guitar monster, brilliant and many more terms have been used to describe Joe's work throughout the years. We feel that all will agree that this record is the ultimate showcase of Joe's mind boggling , unparalleled playing style.