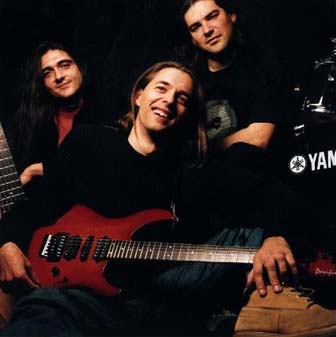 Cyril Achard is a leading force in progressive metal on the French scene. He released the progressive metal album "...in inconstancia constans" which featured guest Tony MacAlpine. The album features technically complex music that will blow your head off! The following release was his all instrumental album "Confusion" re-mastered with 3 new tracks added. Cyril is also a member of "Taboo Voodoo" which also features drum ace Mike Terrana (Malmesteen/Rage).

Cyril was born in 1972 in Marseille, France. He began playing guitar at the age of 12, taking jazz lessons for 7 years. In 1989 he joined the famous 70's Prog band Atoll. During this time he completed a year of study at the Jazz school I.M.F.P.

Arrakeen sought his talents in 1991 while they opened for Marillion during their national tour. He can also be heard on Arrakeen's second album Mosaique. In 1992, he won a rock contest, and recorded his first instrumental. He resumed touring in 1994 with famous French harp player Ange Amadei before a Hard Rock band Quartiers Nord sought him for their new album. Also that year, he was hired to instruct at the National Guitar School IBANEZ in Marseille.

In 1996, he and Sylvain Luc played on Fred Schneider album, signed by Musea. He released his first solo album Confusion in 1997.The success of this album led to a contract with Godin (guitars) and Peavey (amps). Pharaon from his Confusion album was included on Progressive compilation Vae victis (Musea). He also recorded that year, live tracks for the Musea compilation : Prog.Live 97.

In September, he toured in France for Peavey, and was hired by Musical Academy Institute in Nancy to teach clinics. March 1998, he appeared with Tony MacAlpine, Robin di Magio, Neil Zaza... on the Peavey booth at the Frankfurt Music Festival.

He also played that year at the Guitar Maniac festival in Nice, with Nono (Hallyday / Trust), Ron Thal... He recorded at the same time an `instructional video "Le phrasé out". December 1999, he played in East Germany with Mark Cross (Metallian). He's today sponsored by Galli Strings, ART pre-amps, Morley pedals, Peavey guitars and amps.

His solo album was reviewed by magazines in a lot of countries : Italy, Germany, Netherlands, Poland, Brazil... In December 2000, Cyril appears on an American compilation of guitar players : Guitarapalooza Vol.2. Cyril is today a permanent teacher in a famous french Music school of Bordeaux : Le CIAM.

March and may 2000, a mini tour in France will end by Paris for the Music trade, on the Yamaha scene, close to Frank Gambale and Jay Robinson. Cyril and his band is today Sponsored by Yamaha instruments.