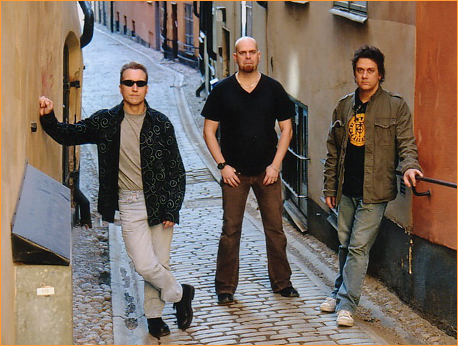 Section A return with their second album, the conceptual 'Parallel Lives'. The album is the follow up to the acclaimed debut, 'The Seventh Sign' (2003 Lion Music) and sees the band establish a trademark sound and deliver a killer album with their own unique brand of melodic progressive metal.
Section A are led by the vocal talents of Andy Engberg, the virtuoso guitar work of Torben Enevoldsen and new drummer Johan Koleberg (Ex-Lion's Share) who replaced Andreas Lill (Vanden Plas). Bass duties were performed by the albums engineer Pontus Egberg (Ex-Lion's Share) in a guest role. The album also features appearances by Mats Olausson (Ex-Yngwie Malmsteen), Lotta Malmström, Elizabeth Kirwan and Ulf "Uffe" Pettersson.
From the start of writing the band decided to do a concept album. Conny Welén had an idea for the story from the beginning, so that part was in place pretty quickly and was built upon with Andy Engberg. Torben Enevoldsen wrote all the music for the album as usual, but didn't present the new material for the other guys before he felt that everything was as it should be i.e. a completed album musically. Andy and Conny received all the new songs from Torben just before Christmas of 2003 and they then started working on the story and the actual lyrics. In April of 2004, the drums were recorded in Stockholm. Pontus Egberg did all the engineering and our new drummer, Johan Koleberg (Ex-Lion's Share), delivers a stunning performance. The band's engineer, Pontus Egberg (Ex-Lion's Share), liked the music so much that he offered to do the bass for the entire album. The guys accepted stating "it was a true pleasure having him aboard". Torben felt that music required a few keyboard solos for this album, so he asked Mats Olausson (Ex-Yngwie Malmsteen) to participate. He accepted and since he was staying with his mother in Sweden at the time, it all came together very fast and without any complications. (He lives in Thailand).
Torben received all the vocals and the completed story in April of 2005. Already quite a bit behind schedule, the plan was to mix and master the album right away. EnevoldsenI went to Torben Lysholm's studio, Tune Town, at the end of April to start mixing Parallel Lives. Unfortunately, this initial mix wasn't really good enough, so the band started all over again… The final mix and mastering was completed by September and the band were now all extremely happy with the final result indeed feeling it does the music and storyline justice. On the performances of drummer Johan Koleberg and guest bassist Pontus Egberg Torben states, "Johan approaches the drumming quite differently from Andreas, which in my opinion makes for a more groovy bottom. Also adding an actual bass player to the line-up helped matters quite a bit in that department".
On the album Torben Enevoldsen comments, "This album differs to our first in many ways. I personally learned a lot from making The Seventh Sign and I think that that is particularly audible in the way these new songs have been written and arranged. Lyrically, this new album is a concept piece based around the story of William, a guy, who by unknown forces gets the gift to travel between parallel universes – yet he is unable to control this travelling. This happens once he falls asleep, whilst he's away from one universe time stands still. At first he believes it's all just a terrifying dream but he soon learns that dream is in fact reality". The storyline expands on this premise and travels through a few different twists and turns (for more info see the Lion Music website) all of which are reflected by the music as well.
Parallel Lives is an exciting progressive metal experience that is set to put Section A in the upper echelon of the genre.

» Well crafted second album from Section A.
» Band features members of Vanden Plas, Lion Share and Yngwie Malmsteen.
» Torben Enevoldsen has a strong following for his solo albums released on Lion Music.
» Concept album.
» Superb artwork.