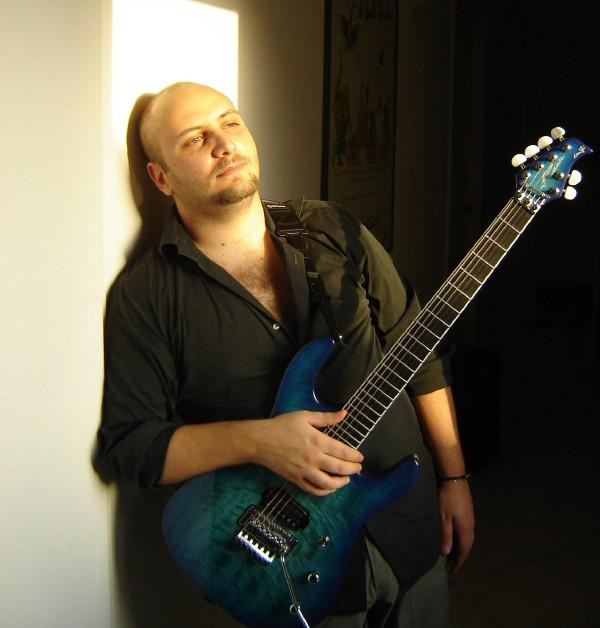 A mix of progressive metal and hard rock with blues attitude. Iíve been heavily influenced during my formative years by bands like Rush, Def Leppard, Europe and Winger to name some. Then of course Dream Theater came out on the scene and my mind was blown, totally.
AIMS AS A MUSICIAN / GUITARIST
My goal is to leave something to the listener as much as a voice would do, not just a flurry of notes. Thatís also why I tend to write songs that have a verse, a chorus, a bridge like a pop song.
TELL US MORE ABOUT YOUR LION MUSIC RELEASES



Marco Sfogli - There's Hope (2008)

Thereís HopeĒ was recorded and mixed mainly in my apartment with a few tools. My aim was to make it sounding like done in a big studio and I spent a lot of hours, learning from the mistakes. A good 60% of the songs were written from 2006 to 2007 while the remaining were small chunks and ideas that I recorded in the past. Gear wise I used a lot of different amps and combinations, blending real tube amps with software modellers and according to people the result was really good.
ANY OTHER PROJECTS YOU ARE WORKING ON?
Iím a member of the James LaBrie band since 2004, a new record is gonna come out in September and a tour following probably. Iím also working on a new solo record which will be probably finished next year.

Guitar wise I use exclusively my signature model from Rash which is based on their MT Monster shape with some modifications. As far as amps goes Iím using always my Mesa Boogie amps, in particular a Studio Preamp paired with a Simul Class 2:90 power amp which is probably the best rhythm/lead tone I ever had and a Lonestar head for clean and crunch sounds. Also I recently got an Axe-FX Ultra from Fractal Audio and itís gonna be my main piece of gear both in the studio and live. The flexibility of both the effects and the amps in this unit are really amazing, definitely something to check out if you didnít already.
WHERE CAN PEOPLE GET MORE INFO ON YOU?