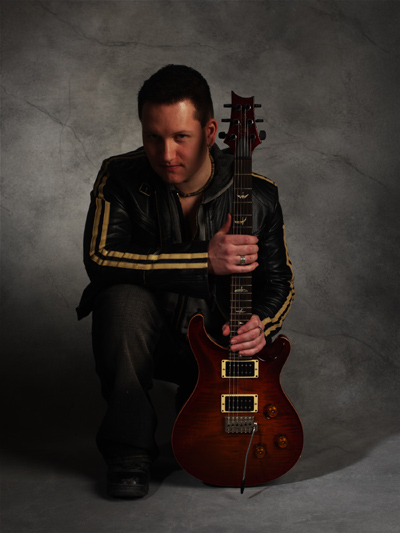 My solo album which is an instrumental guitar album was released on Lion Music in 2006. The title is "A Landscape Made From Dreams" and hopefully that reflects the sound of the album as well. With progresive rock as the common ground for the compositions it takes the listener through some different musical landscapes.
AIMS AS A MUSICIAN / GUITARIST
My goal is to become a better guitarist/composer and to get my music heard by as many people as possible.
TELL US MORE ABOUT YOUR LION MUSIC RELEASES

Daniel Palmqvist - A Landscape Made Of Dreams (available at special price for July 2010 in the LM store - click)
Only one so far, the above mentioned "A Landscape Made From Dreams" 2006. The goal was to make an instrumental guitar album with songs that hopefully could be of interest for musicians and non musicians alike. Myself and produces Daniel Flores really tried to focus on the arrangements and to make sure to songs wasn't just and excuse to have long solos, haha. There are of course a lot of guitar solos on the album, but the the priority was always the songs and melodies.


ANY OTHER PROJECTS YOU ARE WORKING ON?
Right now I'm busy playing different festivals to support the album "Divanity" wich was released in February by my main band "The Murder Of My Sweet". Me and singer Johannes Stole are also putting the finishing touches on the debut album for the band XorigiN which will be more in the style of classic AOR.


Guitars: ESP Eclipse, PRS Custom 24, various Strats.
Amps: Marshall Folkesson Mod, various pedals and also some software amps for certain sounds.
Effects: TC.


PARTING MESSAGE TO THE READERS
Hope to see you on tour in the near future!