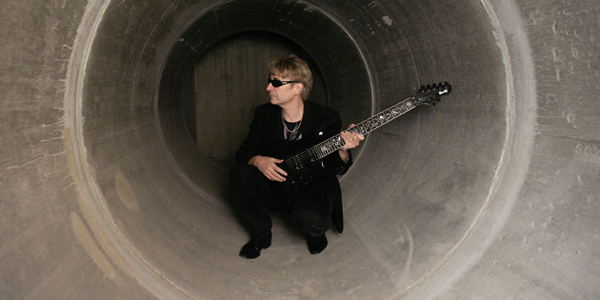 A Mix of progressive metal, classic hard rock, blues, fusion, neoclassical and you name it:-) Seriously I try to break borders and keep evolving and kind of let inspiration take me wherever it chooses... I grew up on classic hard rock stuff like Deep Purple, Jimi Hendrix, Uli Jon Roth, Michael Schenker, Van Halen, Johnny Winter, Al Di Meola etc... but I have also listened to classical music and fusion quite a lot. I have played all kinds of (crap) music, even disco in cover bands so my influences are very wide. Lately I haven't listened to much guitar oriented stuff as I kind of overdid that years ago:-) I am no longer interested in copying other musicians, something all musicians need to do while learning but I have now come to a point where that is no longer interesting.
AIMS AS A MUSICIAN / GUITARIST
I wish to continue creating my own harmonic landscape and I am also interested in more complex rhythms. Since I no longer feel any need to fit it and be part of any limiting musical genre I think the possibilities are endless as long as I have the energy to keep on exploring. My aim is to learn something new every year, or at least incorporate something new each time I release an album. At the moment though I am having a small break, I haven't played the guitar for a few months. I hope this will bring me new energy so that I can do something new and exciting soon.
TELL US MORE ABOUT YOUR LION MUSIC RELEASES
WEBSITE SPECIAL OFFER: The Lars Eric Mattsson Collection: Dreamchild, Earthbound and War (3 CDs) FOR ONLY €19.90
Too many to mention! Please visit www.larsericmattsson.com for detailed info on each album.
ANY OTHER PROJECTS YOU ARE WORKING ON?
I have been involved in many projects including Book of Reflections, Vision, Astral Groove and Condition Red but I think they are all inactive at this time and I don't feel any need to kick any of these alive at this time.


I think I have 17 guitars, the most used are: Boel 7 string, Valley Arts Deluxe Custom Pro, Fender Strat with true temperament neck, Coral Electric Sitar, Warwick thumb bass, Peavey 6505+, Cry Baby wah wah....
WHERE CAN PEOPLE GET MORE INFO ON YOU?
Please be sure to check out the latest Mattsson album "Tango", I think it contains my best writing and playing ever.