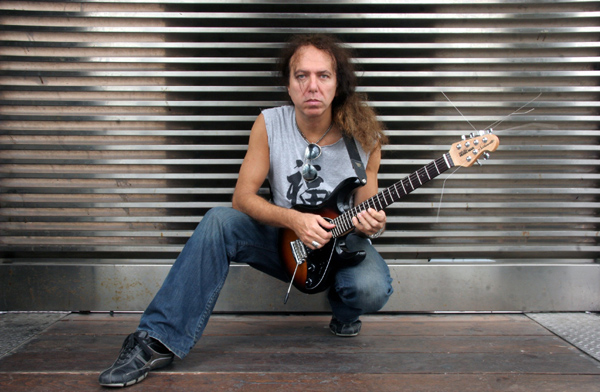 A hybrid of Rock, funk, eastern influences, experimental and fusion.
AIMS AS A MUSICIAN / GUITARIST
Getting the right notes at least 90% of the times.
TELL US MORE ABOUT YOUR LION MUSIC RELEASES





Alex Masi - In The Name Of Bach / In The Name Of Mozart / In The Name Of Beethoven.

My trilogy of releases dedicated to the big 3 classical geniuses.

Masi - Eternal Struggle
My best hard rock album with vocals to date.

MCM - Ritual Factory

The trio from hell. Myself, Randy Coven and John Macaluso, insanity divided by three.

MCM - 1900: Hard Times

A live album fro the psycho trio, ESP in action among the three of us.

Alex Masi - Late Nights At Desert Rimrock
A wild ride of an album, based on improvisations between myself and drummer John Macaluso, dedicated to my love for the desert.

Alex Masi - Theory Of Everything
I'm grooving hard on this one, some very cool tunes and playing.

ANY OTHER PROJECTS YOU ARE WORKING ON?
An album of tunes I recorded with a band called ROYAL BLOOD in demo format is being released on the fsn label, it's very 80s kinda of stuff, it was recorded in 1993. I'm recording with the original singer for the MASI band, Burnie Kimball, he was the singer on FIRE IN THE RAIN, the music is amazing and his singing rocks hard, looking forward to get this signed and published and tour the hell out of it


Music Man guitars, Carvin guitars, Charvel guitars, Manne guitars, Framus amplifiers, Patron beverages
WHERE CAN PEOPLE GET MORE INFO ON YOU?
PARTING MESSAGE TO THE READERS
Music is one of the few good things left on this planet, let's make sure good music is never ignored.


Click the banner above for all the information on Alex's amazing new album.