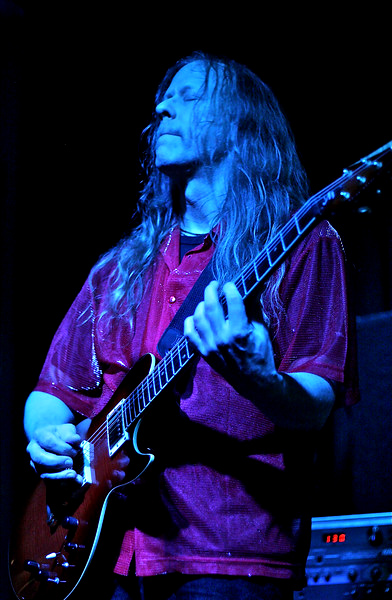 Along with my solo material, I have several bands (which I compose the music for as well), including THOUGHT CHAMBER (prog, on InsideOut Music) and DARKOLOGY (metal, on RAH Records). My solo material (Lion Music, Imminent Music Force, etc), which is mostly instrumental, combines metal, prog, classical, and jazz. Personally, I can appreciate everything from a classical symphony to a prog epic to a 3 minute pop song, and I try to incorporate all of those planes of thought into my music.
AIMS AS A MUSICIAN / GUITARIST
Composition is always first & foremost in my mind - playing wise, I strive to discover unique rhythm structures (including funk and riffs that groove), and in my solos, to combine technique with melody and atonality, while also striving to say more with less.

Michel Harris - Orchestrate
This was my first all "neo-orchestral" release. I arranged and recorded all the instruments separately (one violin sound at a time, etc). It was a huge workload, but was very well received, and that made it very rewarding.

Michael Harris - Ego Decimation Profile
Originally released in 1996 on Leviathan Records. I was happy to be able to completely remix and remaster the disc for Lion in 2007. Musically, it contains prog, neo classical, and fusion songs, all with a metal influence.

Michael Harris - World's Collide
This was my first solo vocal release, which was quite a learning experience. Musically, it is diverse, from prog metal songs to acoustic songs, a jazz swing tune, a wacky instrumental, and a short neo classical bonus track.




Vitalij Kuprij - Forward & Beyond
I was honoured to play on "Forward and Beyond" by Vitalij Kuprij in 2004, along with many great guitarists around the globe.
Vitalij Kuprij - Revenge / Glacial Inferno (dual pack)

I also played on" Vitalij Kuprij's Revenge" in 2005, with John Macaluso on drums, Randy Coven on bass, and many great vocalists (including Joe Lynn Turner.) There is some awesome music on this record. In 2007, I played on "Glacial Inferno", Vitalij Kuprij's instrumental opus, again with John and Randy from Revenge. Vitalij composed some amazing music for this record!
My other instrumental releases are "Defense Mechanizms" (1991); "Distorted Views" (1999); and "Sketches From the Thought Chamber" (2001). Releases with vocals include 3 melodic metal CDs in the 90s from melodic hard rock band ARCH RIVAL; metal band SURGEON "Encyclopedia of the Insane" (1996); THOUGHT CHAMBER's progressive release "Angular Perceptions" (2007); new prog metal band, DARKOLOGY's "Altered Reflections" (2009)


ANY OTHER PROJECTS YOU ARE WORKING ON?
I have just finished "Tranz-Fused", my newest instrumental recording, and am presently working on the 2nd THOUGHT CHAMBER, (which is a concept record entitled "Psykerion"), the 2nd DARKOLOGY record, and my instrumental follow up to "Orchestrate".

Brian Moore 2.13, Gibson Les Paul DC; Wechter Pathmaker electric nylon string, Roland GR-33 guitar synth, Mesa Dual Rectifier, Recto and Marshall cabs, Digitech GSP2101, Radial Tonebone pedal, Boss Ring Modulator, Yamaha Motif ES8 synth
WHERE CAN PEOPLE GET MORE INFO ON YOU?
PARTING MESSAGE TO THE READERS
Thank you so much for your support! You are the best fans ever because you are here specifically for the music. I'm grateful that beyond the mostly canned music they feed us on commercial radio, that there are music fans like you, who have sought out progressive music that pushes the envelope and that you pay for it!