UNDER-RADIO - BAD HEIR WAYS (C) Lion Music, 2004
10 tracks, RT: 46:51
[ http://www.under-radio.com/ ]
[ http://www.lionmusic.com/ ]
Perspective: I have Under-Radio's first disc and while I admit the
musicians are very talented, the collection of songs did nothing for
me. Review: BAD HEIR WAYS (cool pun) is definitely more diverse than
Under-Radio's self-titled debut. A wide palette of sounds is used to
paint this collection of songs. There is a little progressive
("Cornerstone"), a little classic rock ("Devil's From A Midwest
Town"), a little alternative/Nu-metal ("Bad Heir Ways"), some nice
acoustic/string interaction ("Noel"), some great mob movie music ("You
Won't See The Blood Until Your Throat Has Been Cut"), and even an
acoustic sing-along ("1916"). Lead singer Robbie Wyckoff's gritty and
soulful voice sounds like a cross between Doug Pinnick (King's X) and
Scott Weiland (STP). His performance is good, he just has one of those
voices that you either like or you don't and it just doesn't sit well
with me. The production is clean and clear with a well-placed mix.
Eric Zimmerman combines many different styles into his guitar playing
but his progressive nature shines through the most. Matt Bissonette
and Mike Valerio lay some solid bass lines down complementing the
percussion talents of Chris Howard and Mark Zonder (Fates Warning).
Summary: For those of you out there looking for some well-constructed
songs with a different and diverse twist to them, check this out. Lots
of different styles integrated into some interesting tunes. The vocals
will either make or break this one for you. - Sean P. Gahgan
(lof@earthlink.net)

=====
Detritus Rock/Metal e-zine
"Rock Hard With A Purpose"
http://groups.yahoo.com/group/detritus/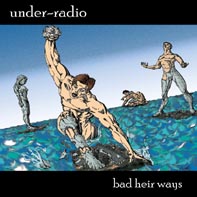 UNDER-RADIO
Bad Heir Ways (Lion)
This not the first time that Under-Radio has been reviewed by Heavy Metal Resource but it is my first exposure to this highly talented progressive rock band. Their new album "Bad Heir Ways" is packed with stuff that will twist your brain to say the least. They have impressed me with the way they blend many types of music styles into ten neatly packaged tracks. To me, they have bridged the gap

between classic hard rock and todays modern rock, hence expanding their fan base which is an important factor if you want to be successful in todays market. I never was a huge fan of Led Zeppelin but I always admired the way they would go from one mode into a totally unrelated one without even a hint that it was coming. These guys demonstrate that same ballsy type of song writing. I'm not saying they sound like Zepplin 'cause the don't but they can go from a gutwrenching heavy guitar riff into a bone chilling violin piece before you even see it coming and it all works out perfectly. Now that's songwriting. Track nine holds another great example of what I am talking about. This one sounds very

twenty-first century, very heavy and grungy then during the solo break it falls into a twelve bar blues thing and you're going-"What the---that was cool". I don't know, call me wierd but I like it when the formula is broken. It makes for good listening. This album is what bands like Puddle of Mud and Nickleback should be. It breaks my heart that bands like Under-Radio don't break into greater media cause this is where the true talent lies. "Bad Heir Ways" is a great album from start to finish, not like those other bands that can only write one good song to lure us in to listen to the rest of their junk. Times are changing though, bands are starting to become songwriters again and I'm pretty sure we'll see these guys at the front of the line. Their pioneering style of aggressive music is catchy, unpredictable and very musical. Lots of grungy guitar work laced with melodic rythyms and a powerhouse bass and drum section. Robbie Wycoff delivers gutsy 'I mean what I say' vocals that stand out in the crowd which is another awesome feature about this band. They really don't sound like every other band out there.They offer something totally new.

Overall

If you are tired of the same ole' grind then check out Under-Radio. They have a style that is clearly their own, bridging the gap between then and now styles and creating styles of their own. Every track will get your attention and leave you wanting more. You have my word on this one, you won't be disappointed by picking this one up.
UNDER-RADIO 'Bad Heir Ways' (Lion Music 2004)

Under-Radio release their 2nd album, 'Bad Heir Ways', featuring a number of
well know names. Fates warning drummer, Mark Zonder, and bassist Matt
Bissonette. Under-radio is the brainchild of guitarist Eric Zimmermann, so
of course the music is guitar driven, with little or no keyboards present.
Yet there is a progressive flavour to the music. The sound is what I would
call 'quirky' and the raw production give quite a unique atmosphere
throughout.
Vocalist Robbie Wycoff, comes across as a strong singer, his voice is
well used, keeping some songs that threaten to go out of control, in reigns
with some great vocal melodies. After the frantic pace of the opening two
songs, its the ballad, 'Noel (The Christmas Truce) that slows things down.
Under-Radio don't seem to get stuck in any groove, each song is quite
different from each other. The killer instrument, the ludicrously titled,
(You Won't See The Blood Until Your Throat Is Cut' is a short break before,
the albums best song, 'Cornerstone' takes hold. With a relatively short
running time of 46 mins, the 10 songs on offer here are short and to the
point, not over indulgence, still plenty of technical stuff to keep the
shredders happy and enough memorable songs to keep those who are more
interested in the melodies, rather than the notes.
To be honest I don't know what to make of Under-Radio, as I don't think
they sound like anyone else and they kind of take you back, with their
unique sound. Though it is great to hear a band trying to be themselves and
on one else. Full marks for that and a solid album of 10 great memorable
songs.

****
Graham Boyle www.getreadytorock.com


---
Under-Radio (U.S.)- "Bad Heir Ways" (2004 Lion Music)
Lion Music somehow always gets these supergroups or comes up with some awesome project bands. Under-Radio is the mastermind of Eric Zimmerman whom plays guitar and bass on this sophomore effort 10-tracker. Joining him are Mark Zonder from Fates Warning sharing drum chores with Chris Howard, vocalist Robbie Wycoff and the bass talents of Matt Bissonette and Mike Valerio.

The result of this CD is a fresh batch of power rocking Metal tunes with bold sounds and ambiences that keep it very up-to-date and sort of is like combining King's X with Event, Enchant and The Flower Kings with maybe some other stuff (OSI, Dream Theater). UR makes you think and soak in all of the intricate songwriting and musical skills.
www.progressiveviews.com

---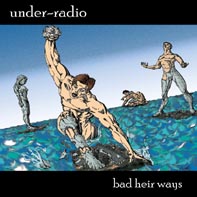 UNDER-RADIO
Bad Heir Ways (Lion)
Under-Radio's debut was a pretty cool eccentric guitary thing that threw the rulebook out like Steve Vai. But it was a bit projecty, instrumental and lacking in cohesion. No more, as brainchild-on-sugary-cereal Eric Zimmermann returns with a record that amplifies his many talents and engaging foibles through mostly heavy, heaving, sludgy conventional rock songs. Demonstrating that the debut was no fluke of complex arcane chicanery, the new one offers exotic BOC-like lyrics (Robbie Wyckoff even sounds like the other Eric at times, for both better and worse) over songs laden with irony like Paul Gilbert, Vai, Queens Of The Stone Age and perhaps Dream Theater's old keyboardist Kevin Moore, if that Costa Rican were a submersible, psychedelic metalhead. And once more, Zimmermann's particular metal tunings and tonings lean toward Zeppelin and Soundgarden. But the best track is a mellow one, '1916' being a progressive folk thing like mellow I Love You or Liquid Jesus, Eric warning of something in the water off the Jersey shore. Points docked for lack of bass, and for the vocals being mixed a bit back.
Martin Popoff 8 Brave Words and Bloody Knuckles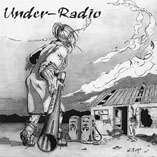 UNDER-RADIO - S/T
History
Under-Radio is a progressive rock project from U.S. guitarist Eric Zimmermann. Studied in New York under guitarist John Petrucci (Dream Theater), Rich Kern and Terry Syrek. He moved to California to form a rock band. In 2001 he participated in Lion Music's Warmth in the Wilderness - A Tribute to Jason Becker.
Comments
A bit strange, but still very delicious; that's the best description for this band. The strange thing is, that hearing all the songs after each other, they sometimes do contrast with each other very much. I guess it has to do with the musical input, that ranges from the Los Angeles Philharmonic Orchestra to Mark Zonder (Fates Warning). Zimmermann's own musical taste also seems to be very diverge. Overflowing rock songs like Acrobat and Spinning Wheels are varied with a very melancholic instrumental, How was the funeral? (the title says enough, I think).
The following song Swing it! is both in style and in atmosphere difficult to place between the previous songs; it's a kind of happy Huey Lewis and The News rocker with just a little content. Fortunately the band pulls it straight with a heavy instrumental including a short jazzy intermezzo, a few other heavy rockers that appeal to the ear pleasantly and the brilliant closing track Drinking blood.
In the person of Eric Zimmermann Under-Radio is blessed with a very talented musician with a creative mind that can bring us a lot more very interesting things in the future.
Reviewed by
John Buis
Score
9,0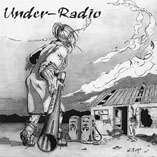 UNDER-RADIO - S/T

Under-Radio is a new band by guitarist Eric Zimmermann, a musician who studied under Dream Theater's John Petrucci. The album also contains some guest appearances by Fates Warning drummer Mark Zonder. Although Under-Radio also shows some progressive elements, it's more a classic hard rock album with very strong guitar influences. Lots of the songs are very catchy and melodic (Acrobat, Spinning Wheels, Everytime). Mr Zimmermann definitely proves that he's an excellent guitar player and he sometimes even tries to copy a legend like Joe Satriani (Swing It! may be a very good example), but most songs suffer from the vocals by Robbie Wycoff. It's not that he hasn't a good voice, but it's sounding too bluesy or even soulish for a rock band. Bigger Fish To Fry is a very blues rock like song and to me a disappointment. Luckily there are also some instrumentals on the CD. How Was The Funeral? contains acoustic guitars and flutes, and is a very slow track. I prefer Elmer's Revenge because that song mixes rock and jazz passages in an excellent way or Drinking Blood, the most progressive sounding track. Although the album contains some nice passages, I can only recommend it to pure rock fans.

DisAgreement fanzine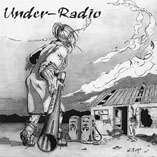 UNDER-RADIO - S/T
Under-Radio is the new band and album featuring guitarist Eric Zimmerman who studied under none other than Dream Theater's John Petrucci. Also featured on the release are Matt Bissonette, Mark Zonder, Mark Valerio, Chris Howard, and vocalist Robbie Wyckoff. To sum up the sound of the album, it sounds progressive with a lot of edge 'Acrobat' opens and makes that case right away. Wyckoff's vocals on the album remind me a bit of Glenn Hughes in some ways. He comes across well. Continuing the trend set in 'Acrobat' is 'Spinning Wheels'. Erratic drumbeats and chunky rhythms once again show the consistency of the material. There is a good deal of atmosphere on the album in tracks like the acoustic 'How was the Funeral?', the powerful sounding 'Lifeline', and 'Drinking Blood' that has some very cool arrangements and closes the album in fine fashion. Most of the music just flat out rocks. You can really tell when a guitarist is influencing the writing structure. The guitar playing smokes. Eric doesn't come across as a noodler, but instead shows good discipline in putting things where they elong and sound write which makes the album enjoyable instead of a big showoff session. Not really a weak track on the disc in my opinion.
Overall
Under-Radio is a band I wasn't really familiar with, but found quite impressive. The listen is quite unique. The sound is intense but has a technical aspect that you hear in more polished progressive metal. The album sounds like a lot of effort went in with an outstanding end result. For those looking for a routine formula that has been used for ages, this may not be it. For those who appreciate innovation in songwriting and an artist who dares to be a bit more dangerous, spin this disc. I found it to be one of the years surprises! rockindude.homestead.com/reviews137.html
---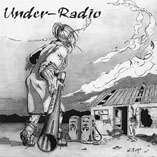 UNDER-RADIO - S/T
Under-Radio is an eclectic progressive rock project under the direction of guitarist Eric Zimmerman. For points of interest Eric studied under Dream Theater's John Petrucci, and the album also contains a guest appears by Fates Warning drummer Mark Zonder (tracks 2,6 and 7, if memory and my instincts serve). However don't let those names fool you into expecting any sort of particular sound from this album, its a rock base but features a lot of eclectic sounds, in a way its kinda like listening to something like Led Zeppelin 3, each song sounds completely different. One of my friends thought it some of the stuff sounds like things Joe Satriani might try, and although I'm not overly familiar with Satch, from what I know I don't think its too far off. The musicianship is strong and the album sounds pretty good production wise, crisp and warm. Zonder's playing is quite good, although not as flashy as his Fates Warning stuff. Vo! calist Robbie Wycoff does a good job singing and tend to have a fairly soulful voice, it generally fits the tracks well, except for "Bigger Fish to Fry" which I think the vocals, lyrics and music tie together poorly.
The album opens with "Acrobat" which is a great songs IMO, one of my favorites on the album its rather catchy, and although sounds somewhat straight forward on first listen which the chunky riff, repeated listens will reveal some cool drumming and other things like acoustic guitar tracks that add to the song quite a bit all in the back ground."Spinning Wheels" is a fairly catchy rocker. "How was the Funeral?" is a great instrumental with classical guitar and flute. "Swing It!" is an uptempo almost shuffle style beat, its probably my least favorite track on the album, it just doesn't grab me. "Elmer's Revenge" is an instrumental that's all over the place it pretty cool and unique song from more traditional rock style to jazzier sections. "Everytime" is a great catchy number, very addicting. Its got a light techno vibe in the back ground, it hardly dominates the song and although I typically dislike that stuff, its subtle and give the song a nice flair. "Lifeline" is defini! tely my favorite track on the album, similiar technoish parts as the previous track, but this song is a deep soulful blues based tune, with a nice solo and vocals. Very cool stuff IMO. "Bigger Fish to Fry" is a decent song but something about it doesn't quite gel. "Drinking Blood" is a nice instrumental that has lots more eclectic sounds to imerse yourself in, its probably the most progressive song overall, it opens with some acoustic guitar and more eastern sounding melodies, and goes to a few different places from there.
In the end I recommend this album for rock fans that like bands to try different sounds, each song is quite different and there's some nice experimentation in each song without overbearing the listener, so if that sounds like its your thing please give it a shot.
---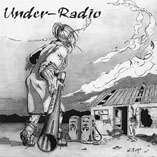 UNDER-RADIO - S/T
(Lion '02)
If you ever wondered what King's X crossed with Stevie Ray, Zeppelin and Jimi filtered through the wise guy writing of Steve Vai sounds like, then look no further than this fiery, creative but accessible disc from engineer, guitar teacher and Fates Warning friend Eric Zimmerman. Eric manages to find dreamy, steamy percussive structures on which to hang his obtuse, innovative riffs, making for a zesty rock ride that also recalls oddly the mindspace of Chris Goss and his legendary Masters Of Reality. Versatile, progressive and trying really hard to form hooky, likeable songs out of inverted ideas, Zimmermann has crafted a gorgeous work that succeeds with this aim. Again, one thinks of a hyperactive, ironic, self-deprecating guy like a Steve Vai conforming and conforming well. That's where Zimmerman sits in fits. Along for the ride are Matt Bissonette, Mark Zonder and three more guys that I'm sure matter in pure music circles, all gathered for this celebration of slinky, funky soundgardens. Having said that however, I gotta knock points off for too many instrumentals and a couple sorta indie sounding tracks on a 39 minute long record of only nine tunes. But oy vey, Acrobat, Swing It!, Everytime and Bigger Fish To Fry… stick 12 like this on a record and hard rock's been slapped with a new fresh backhand. Contact www.ericzimmermann.com for more info.
Rating 7.5
Martin Popoff