ORION RIDERS - A NEW DAWN
(B+) Lion Music, 2003
9 tracks, RT: 41:42
[
http://www.orionriders.com/
]
[
info@orionriders.com
]
[
http://www.lionmusic.com/
]
Cool name and album artwork! I took one look at the frilly shirts and
band member names and thought "Italian power metal, file under
'Rhapsody.'" Uh, no. The guys are Sicilian and in fact have more in
common with Angra, Helloween, and Gamma Ray than Rhapsody. Vocalist
Joe Lombardo has a diverse, powerful voice that spends a lot of time
in the upper register, and -- no joke here -- is on par with
Helloween's Michael Kiske and Angra's Edu Falaschi on occasion.
Guitarists Antonello Condorelli and Riccardo Failla have the frenetic,
Germanic riffing and jaw-dropping soloing down pat, and bassist
Carmelo Siracusa and drummer/keyboardist (odd combo, that one!) Tony
Zappa are right up there as well. The Angra comparison comes into play
because A NEW DAWN isn't just a collection of typical power metal
songs; there are also bits of tribal drumming, acoustic guitars,
orchestration, and touches of keyboards. Highlights: "Old Symphony",
the title track, and "Light And Dark." (Frankly, it's a drag I waited
so long to review this disc. If I'd done it earlier in the year like I
should have, I would've said "Buy this to tide you over until the new
Angra album comes out." But now TEMPLE OF SHADOWS has hit the
shelves... <sigh> Don't let that deter you from investigating Orion
Riders!) - Tim
Detritus Rock/Metal e-zine
"Rock Hard With A Purpose"
http://groups.yahoo.com/group/detritus/
Orion Riders: A New Dawn

This may be the best debut album we've heard in years.

On first listen, comparisons with their Italian compatriots Rhapsody, spring to mind. Then you'll start comparing them with all the other power metal greats – particularly Keeper era Helloween, and Elements Pt.1 era Stratovarius. And Sonata Arctica, Angra, Yngwie Malmsteen, Dream Theater, Queensryche Iron Maiden, and … so many greats. Orion Riders must be tired of being held up against all those bands, but the point is – their music is worthy of those comparisons! It is brilliantly executed power metal with the sounds of orchestras and choirs and a truly stellar vocalist. In fairness to Orion Riders we'll stop with the comparisons, and allow a brief description of the first track and the intro to the second to convey an idea of what to expect.

It starts with a few seconds of dark sound effects (you can imagine this being an excellent build up to the stage walk-on in a live show). String and church organ sounds follow, then enter Joe Lombardo singing a short piece in operatic style, while a piano is introduced into the mix under the vocals. The singing pulls back and is replaced by a wonderful piano passage played over the accompaniment of cellos. Track two crashes in with the full compliment of metal instrumentation, led by a simple riff, and with those (sampled) orchestral sounds now receded way into the background. And all this happens in less than 3 minutes.

You getting the picture? Rich, varied sounds, orchestrals and choirs, tight progressive metal arrangements, and a vocalist with a range and power that ranks among the very best in the business. There are trumpets and violins, excellent dual guitar work, sweeping piano and keyboard passages, blistering guitar solos, and – here's something unusual – lyrics that are worth following (despite Lombardo's accented delivery.)

Listen for the power ballad "Life's Best Days" – beautiful, powerful, an excellent showcase for the band's versatility.

There is nothing new in A New Dawn. You've heard it all before. But it is such a virtuoso performance and such a melodic piece of music that it really doesn't have to break new ground – it should be appreciated on its own merits. If the debut album is a precursor of things to come, future power metal acts just may be compared with Orion Riders.

Track Listing
1 In Memory (02:45)
2 Whispers (04:55)
3 A New Dawn (06:54)
4 Leave The Shades Behind (05:31)
5 Lacrimae Angel (00:40)
6 Light And Dark (07:34)
7 Life's Best Days (05:11)
8 Nocturne (01:37)
9 Old Symphony (06:32)
Added: February 25th 2004
Reviewer: Duncan Glenday
Score:
ORION RIDERS - A NEW DAWN (Lion Music)
"A New Dawn" is the mind blowing debut album from Italian symphonic power metal merchants Orion Riders who have been performing since 1998. The album is rich with neo-classical metal music which starts with 'In Memory' an awesome opener that sounds like the song should belong on a motion picture soundtrack with it's massive cinematic structures. The music is also very beautiful, especially the gorgeous piano's. This song bursts it's way into 'Whispers', a full on frantic neo-classical power rocker in the vein of Yngwie Malmsteen and Ring of Fire. The guitars are very hot and the song is often symphonic, quite a wondrous track with those drilling guitars really ripping.
'A New Dawn' again flows with sensational neo-classical guitars. This is a melodic power rocker with singer Joe Lomardo's vocals really pushing high notes. This song reminds me of Queensryche, especially the chorus. The melodic and progressive 'Leave The Shades Behind' will please fans of Dream Theater as this song has a strong flavour of "Images And Words". The keyboards shred fast and this song is just superb and one of the best on the record. 'Laerimae Angeli' opens with what sounds like a church choir that serves as an intro for the next track which is called 'Light And Dark' , once again this is symphonic progressive metal with tons of keyboards and drilling guitar, I love songs like this. I also hear some Helloween on this track especially in Joe's voice. 'Life's Best Day's is next and this song opens up with gorgeous pianos performed by Tony Zappa. This is a massive gorgeous weepy ballad filled with tons of emotion, another of the records best songs. The symphonic cinematic 'Nocturne' really is a beautiful piece of music that could grace any motion picture soundtrack, I highly suggest playing this in your car CD player with the bass and volume on loud and the car will rumble with the power of the music that leads into the frantic finale of 'Old Symphony' a song which displays all you could wish for from symphonic power metal and neo-classical melodic metal, some of the musical soundtrack parts remind me of the music Danny Elfman conducts for his movies, a great ending to a fantastic record.
Orion Rider's is a massive album make sure you buy this one if your a fan of this musical style. Glorious stuff
90/100
ORION RIDERS / A New Dawn / Lion Music
by: DERRIC MILLER www.metalexpress.no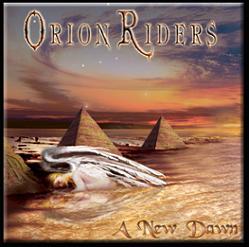 No matter how much they probably hate to hear it, Kiske-era Helloween inspired a multitude of bands, and continue to inspire today. How else do you explain Orion Riders, a progressive band full of talented musicians who tap into the Keeper of the Seven Keys vein while adding in elements of Yngwie Malmsteen, Dream Theater, Queensryche and others. Luckily, they are not clones of any of the aforementioned. Orion Riders A New Dawn pays homage without committing thievery and creates an album full of aural imagery.
Quizzically, the album begins with a song called "In Memory." This sort of tune is usually left for the last song on a CD. The track is mostly an intro, 90 percent instrumental except for some short vocals, that serenade us with the thought that "all dreams will be stars that never die …"
The Kiske reference comes because of vocalist Joe Lombardo. On the third track, "A New Dawn," you'd swear it was Kiske screaming "I stayed in darkness while the wood buried its secrets woh!" One difference here is that Lombardo is Italian, and the accent is noticeable, although it in no way impedes with the delivery. He has a strong, skilled voice, and fits the band perfectly. This is the band's third vocalist since 1997, and here's hoping he stays with them from this point on. The composition of the song will lead you back to Keeper of the Seven Keys references as well.
"Light and Dark" begins with a choir singing, and then triumphant keyboards and thundering drums take over. In the production mix, the drums are not brought to the front as much as they should be. This is more of a guitar and keyboard song, with Lombardo wailing over the top of all. This song is 7:34, basically a chance for every musician on the CD to shine. The choir joins in at the end of the song as well. This is an obvious attempt at writing an intricate composition, and it works.
The one ballad on the CD, "Life's Best Days," is probably the one time where they make a somewhat commercial attempt at songwriting, if that's possible with a progressive metal band. The music is beautiful, the lyrics are impassioned (Listen to these words, poetry of a shattered dream … no tears for you), and the ending of the song is somewhat of a Hollywood ending, how it all wraps up perfectly. Perchance they tried too hard, here.
Guitarist Antonello Condorelli saves his best for last, on the aggressive song called "Old Symphony." The beginning of the song highlights his ability, and when vocals starts, it's almost too soon. Still, he has more chances throughout the track. In fact, the drumming and bass stand out on this track as well. All in all, their most complete song.
The CD is somewhat short, 9 songs in length with 2 instrumentals, but the quality in essence makes up for the quantity. They may sound a bit like their influences at times, but weave a fresh layer into their songwriting. Right now, they are not as good as they will be, but they are worth your time. Definitely check out A New Dawn.
Orion Riders were formed back in 1997 and at that time were inspired by the metal bands Iron Maiden, Queensryche, Helloween etc. They promoted their own music in Sicily and attracted a good following. In 1999 they recorded their first demo CD, "Brothers Of Another Time" and with the use of trumpets, violins and orchestral parts made the band sound different to some others of that genre. In 2000 they started to record their second demo, this time they injected more progressive elements into their music although soon afterwards the vocalist left and was replaced by Joe Lomardo. It is this line up that now release their first full length CD, "A New Dawn".



I haven't heard this band's first two demos so I come to this album with no expectations.
It opens with "In Memory" which has a dark intro of keys, piano and orchestral tones then in a blink of an eye the heavy metal guitar jumps in, and I have to say, "what an exciting introduction it is to this album". If one wants to make an impression then it needs to be done from the onset, that's what these guys achieved. This band certainly throw everything at you; track 2, "Whispers" is another good example, with this time, monastic choirs and wailing guitars all of which demonstrate melodic and progressive metal at its best. This whole album is brilliantly put together as track after track slips in and out of progressive metal, symphonic elements and orchestral sections, the title track, "A New Dawn", and "Light And Dark" are classic examples. With the classical guitar entering on the track, "Leave the Shades Behind", the tempo drops and this album takes on a whole new dimension as the music becomes more thoughtful. This is one of the best metal bands I have heard since the Russian outfit "Nordream". They both inject classical/symphonic elements into their music; the tracks "Lacrimae Angeli" and Nocturne" are prime examples. I have to admit though, the piano on the opening of "Life's Best Days" steals the show for me; it's an emotional experience as it leads into a heart wrenching power ballad. For a band to be so good on their first full length album it can only demonstrate that they are here to stay for a lengthy period. It's a collective effort as every member plays their part; great drumming and bass and not forgetting the vocals by Joe Lomardo which are perfect for metal influenced music.
A band you really do need to hear. Make this the first album you listen to in the year 2004.
85%

Band Members

Joe Lomardo: Vocals
Antonello Condorelli: Guitars
Riccardo Failla: Guitar
Carmelo Siracusa: Bass
Tony Zappa: Drums & Keyboards

Classical guitar on the track
Leave The Shades behind
by
Gianfranco Fichera

The Album

A New Dawn



Tracks

In Memory
Whispers
A New Dawn
Leave The Shades Behind
Lacrimae Angeli
Light And Dark
Life's Best Days
Nocturne
Old Symphony
Orion Riders––A New Dawn, Lion Music, 2003


Some might argue that this Italian power metal collective don't have one shred of originality in their music but no one can deny that the members of Orion Riders must surely feel every note played on this nine-song outing,; this proves especially true in the emotive guitar playing of Antonello Condorelli and Riccardo Failla and the sweeping keyboards of Tony Zappa (who also plays drums). The songs aren't half bad, either, adding up to something that will surely satisfy the power-hungry metalhead. So how does the band measure up on the big test? (Read: The Big Ballad, here known by the name "Life's Best Days.") Better than most. Sit close to someone you love during that song and maybe even during some of the others. Further kudos to Carmello Siracusa, whose symphonic instrumental, "Nocturne," lends added depth to this outing.
Added: January 29th 2004
Reviewer: Jedd Beaudoin
Score:




Related Link: More Information

Orion Riders - A New Dawn
2004 Lion Music
Hailing from Scilily, Orion Riders are the latest power/prog metal band to be picked up by Lion Music. Once again the label have come across a band with some real potential. Coming across as a mix of Stratovarius, Yngwie and Dream Theater would suggest all the right ingredients for making a decent album and A New Dawn proves no exception.
Led by the classy vocals of Joe Lombardo who is a great mix of Geoff Tate (Queensryche) and David Readman (Adagio) we have a lot of potential in the duel guitars of Antonello Condorelli and Riccardo Failla. The duel guitar attack is enhanced by the rhythm section of bassist Carmelo Siracusa and drummer Tony Zappa who also handles keyboard duties. With the power metal sound we also get an orchestrated enhancement which adds nice detail to the arrangements. All sounds very strong thanks to the good production courtesy of the bands own work.
Opener In Memory sets the scene with a moody intro piece full of spacial sound effects and a long organ which builds up great tension overwhich Lombardo soars before guitars and drums come crashing in leading into Whispers. A cracking riff with tremendous bottom end and nicely orchestrated is hard to ignore. The tempo is relatively sedate before launching into a double bass drum assault. The guitars are very upfront in the mix and batter your ears from each side (which is by no means a bad thing!). Vocals are again strong with good melodies, mid way through we get a moody break down with choirs, odd time signautures before a solo which is equal parts melody and neo-classical arpeggio laden. A very impressive opening gambit.
A New Dawn continues with its very majestic almost nordic sounding title track. Again excellent guitar riffs and nice use of keyboard orchestration to add to the mood. This is undoubtedly one of the highlights thanks in no small part to the very classy break down two minutes in which leads into furious metallic charms. The track is home to everything, a very smooth Petrucci like melodic solo, which leads into a very Queensryche sounding bridge. The vocals are stunning here and this ably backed up by the music supporting. Leave The Shades Behind has some great classical guitar textures over a nice phased clean electric, very earthy before leading into more areas that mix classic Queensryche with Dream Theater. This track is home to a great extended solo that I just wish was panned a little more central to make it jump out a little more.
Lacrimae Angeli is a 40 second choir opener for the superb Light & Dark, this is classic power metal with all its trademarks to the fore. Fans of Helloween and Stratovarius will be loving this, a pulsating double bass drum assault with classy melodic vocals over biting, hungry guitars. Clocking in at over 7 minutes there is a lot to digest but thanks to the arrangement the time does not drag in the slightest.
Life's Best Days sees the tempo drop for a strong almost power ballad esque track. The nature of the track gives another oppurtunity for Lombardo's vocals to really soar and shows just how good his dictation, intonation and vibrato really is. The guitar solo sees long sustained lines which lead into the chorus. Very strong and fans of Dream Theater will lap this up.
Nocturne sees an Adagio-esque instrumental prelude lead into Old Symphony which is pure symphonic power metal. All the trademarks are there and its all good quality, but does come across sounding a little more contrived than the rest of the album for some reason. Its a good track despite this shortcoming and an enjoyable enough way to end the album.
Orion Riders have come out with a very strong debut, the band sound completely confortable with their sound throughout and despite showing their influences there is an original voice within that will be interesting to see how it develops on subsequent albums. A New Dawn does show that Lion Music have another strong act on their roster and if this is an indication of what is to come in 2004 than it looks like a very bright year indeed.
Hot Spots: In Memory, A New Dawn, Light & Dark.
Rating: 88% review by Andy Craven for www.VirtuosityOne.com

ORION RIDERS - "A New Dawn" - LION MUSIC
The debut for Italy's Orion Riders is a perfect example of how beautiful Heavy Metal can be. Their savage grace approach to Metal is simply breath-taking. They are Symphonic Metal at it's finest.
"A New Dawn" is more of a journey or story that takes you to many different levels and worlds. Their influences and ability to flow from one style to the next is amazing. The band produced the album as well and they obviously know themselves quite well as they made what they're doing sound easy, when in fact this music is very progressive and detailed.
Lead singer Joe Lombardo has the voice of an angel. He knows where and when to put the emphasis and uses full extension of his range. In other words, not every note of every song is overdone. This gives the music more emotion and life in my opinion. Perhaps the most talented of the group may be drummer/keyboardist Tony Zappa. He was also in charge of the orchestral arrangements and was heavily involved with the song-writing. His progressive drumming and blistering double-bass is done so well you'd swear it wasn't human.
The guitars are handled by Antonello Condorelli, Riccardo Failla and bassist Carmelo Siracusa who are about a tight of a trio as you'll find. The dual guitars of Condorelli and Failla are very solid, but they don't overpower the songs. Again, that's a tribute to the production as no one instrument is overpowering the other, but instead compliments the others. And as anyone who knows music knows, progressive music needs a solid foundation and Siracusa's bass style provides just that.
As far as the songs go, there's not really a "single" to speak of, "Whispers" is the closest. There are some incredible epics like "Light And Dark" that have songs within' songs. There's a short track called "Lacrimae Angeli" that is all vocals and I promise the melodies will give you goosebumps. I was actually hoping the song would last longer. Perhaps the most impressive song and the one that really shows their diverse influences and talents in "Old Symphony", a track that would make Mozart proud.
If you like metal along the lines of Heavenly, Stratovarius, Sonata Artica and Melodic Symphonic Metal, this is a REQUIREMENT for your collection. These guys can hold their own with the best of them.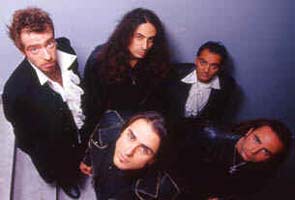 Review from www.rockhardplace.com writer: Torch
---

ORION RIDERS - "A NEW DAWN" LION MUSIC (2004)

A large number of European Power Metal bands originate from Italy. The country's latest export, "Orion Riders", have recently released their debut album "A New Dawn" through Lion Music. The band was formed in 1997 when Carmelo Siracusa (Bass) and Antonello Condorelli (Guitars) discovered their mutual appreciation for Queensryche, Helloween, Judas Priest and Iron Maiden. In 1999 the band released their first demo "Brothers Of Another Time" which was embraced by the music press worldwide. After a couple of
changes in the original line up, the band entered the studio and in October 2002 recorded their debut album.

Melodic/Power Metal bands will always face the same problem: Creating music which will successfully combine melody with technicality. Why is that difficult? Maybe because the leading bands of this genre (Helloween, Stratovarious, Angra etc) have set very high standards. Maybe because most of the European Power Metal bands that i've heard, fail to deliver fresh ideas and end up becoming bad "cover bands". The industry is ruthless and the competition is strong.What about Orion Riders then?

I believe that "A New Dawn" is a very interesting debut album for various reasons. You cannot say that the band presents something totally new, but the compositions are well structured and the production of the album reaches high quality levels. Influences from Helloween and Angra become visible throughout this nine track CD but so does the band's personality. Joe Lombardo is the band's heavy artillery - his voice has character and delivers equally well high and low notes. Tony Zappa's (Drums & Keyboards) orchestral arrangements were quite effective and the rest of the band contributed their best. I consider "Light and Dark" and "Life's Best Days" to be my favourite songs of the album.

It is important for every new band to make a step in the right direction - Orion Riders made that step. Let's hope that the ones that will follow will be equally successful.

John Stefanis
Rating: ***1/2 Classic Rock Newswire
---

ORION RIDERS - "A New Dawn" - LION MUSIC
Orion Riders is a very interesting new band from Italy, playing a mixture of Symphonic, Progressive and Power Metal.

There are many great musical passages to enjoy on this rather short debut running out at the 42-minute mark. When taking into consideration that one song is an intro and two being short instrumental songs, I'm left with the feeling of "needing" just a few more "normal" tracks. Well lets look at what's important, namely what we get.

Whispers is a fast and very varied composition, lots of great passages, huge symphonies, a splendid melodic guitar solo and some tight and very deep bass parts.

A New Dawn is one of my absolute favourites on this disc, a rather complex cut displaying fantastic keyboard harmonies and guitar work. It has a special progressive vibe and it just comes so well together, the huge break is really divine.

A dark shrouded mood fills up a lot of Leave The Shades Behind being another fantastic song with immensely cool keyboard parts. The technical level is very high and the band's flair for making things just a bit complex without loosing the flow of each song is a special and important aspect.
The chorus could have been more intriguing but the drum work contains a lot of variability and the rhythm guitar approach adds quite a lot of vigour.

Light And Dark features some great twin guitar work and it has a cool bass that not only has a strong groove but also placed high in the mix. Once again the fantastic piano/keyboard parts takes up a lot of room and the bombastic choirs gives it a certain grand profile. The strong vocals change very fittingly in style from low and high levels and the only thing not really working out that well is the rather weird and unstructured ending.

The mysterious lyrics are a very good and contain a balance between melancholy and hope, both things captured in the Life's Best Days, being the albums ballad and a good one too. A simpler path is followed with a straightforward refrain and a down to earth acoustic guitar rhythm, of course spiced with a thrilling keyboard background.

Nocturne is a one and a half minute instrumental keyboard driven track that is more odd than successful; it has got a certain dramatic edge but a bit too loose in its flow for my taste.

At the end we find the hard pounding Old Symphony, nicely packed with innovative parts and musical treats form all band members, they surely know how to handle their instruments.
Not all vocal passages are over the top brilliant in this song, being quite screaming in fashion, and in general there are a few instances where it could have been better adjusted to the songs direction but overall I must say that it's a distinct and well-executed job.
With Orion Riders it extremely seldom becomes predictable or tiresome, a fact that also holds ground on this last song being complex, bombastic and quite melodic.

I found the production to be very interesting and successful. They have somehow achieved to make a sound that puts the instruments (and voice) in front when it's suitable. It's not only awesomely well balanced, its bombastic and quite clear as well, only minor aspect is the drums that could have been more striking.

There is potential for a promising future for this band, a very refreshing, ingenious and varied effort.


Rating: 7/10 www.revelationz.net Tommy