Kuprij, Vitalij - Glacial Inferno & Revenge (8,5/10) - Ukraïne - 2007
Genre: Instrumental Metal / Progressive Metal
Label: Lion Music
Playing time: 50:57/57:13
Band homepage: Kuprij, Vitalij


Tracklist:

CD1 Glacial Inferno

Symphonic Force
Liquid Rain
Fire In The Sun
Divided Horizon
Glacial Inferno
Dancing Flame
Forgive
Dying To Live
Burning Ice
Theme By Albinoni (Bonus Europe)

CD2 Revenge

Burning My Soul
I Don't Believe In Love
Into The Void
Revenge
Just Another Day
Excerpt From Sonata In E Minor (J. Haydn)
Classic War
Emperor's Will
Follow Your Heart
Stand Up And Fight
Let The Future Unfold

Arguably one of the best keyboardists in the Metal world (and an accomplished concert pianist to boot), Vitalij Kuprij of the Ukraine has been steadily pumping out dazzling instrumental albums for a while now. The virtuoso keyboardist has a flair for odd time signatures and choppy rhythms, much like his Lion Music label-mate Alex Masi. In addition to his solo work, Kuprij has also played in the Neoclassical Metal bands ARTENSION and RING OF FIRE. Now, Kuprij's last solo effort (2004's "Forward And Beyond") didn't fare so well under the judgment of The Metal Observer; fortunately, I can report that "Glacial Inferno" is both a technical showcase and something well worth spending sixty minutes of your time on.

Instrumental albums get a lot of flack for their supposed "wankery", which ultimately translates to a full hour of straight soloing. The thing is, when you're a pianist signed to Lion Music, who do you look to inspiration except the greatest wankers of all time? Bach, Mozart, Beethoven…these chaps had no intentions of merely being "accompaniment" musicians; they could solo like hell, and so they did. Kuprij understands this, and so there are no vocals to be found on "Glacial Inferno". However, there are other virtuosi, including guitarist Michael Harris (check out his newly released "Orchestrate" album for more shredding madness), as well as the former ARK/Yngwie Malmsteen rhythm section of Randy Coven (bass) and John Macaluso (drums). Together, the foursome have crafted a fine album indeed.

"Glacial Inferno" is an excellent balance between mellow mid-tempo journeys (like the title track and "Dancing Flame") and wild Neoclassical speed-runs ("Burning Ice", "Fire In The Sun", or album opener "Symphonic Force"). Of the two, I found the latter more enjoyable, mainly due to the warp-speed shredding both Kuprij and Harris bring out on the tracks. The songs are incredibly varied for an Instrumental album; each one has its own little "hook" or motif so you can instantly tell it apart from the others, which only makes sense on a vocal-less CD.

"Glacial Inferno" is worthy of a buy simply by itself; however, Lion Music just had to do us one better and couple it with Kuprij's previously unreleased (and much sought-after) "Revenge" project. For those of you who love wild instrumental virtuosity but would really prefer a few vocals on the side, Kuprij has got you covered with the best of the best. Using the exact same band members that played on "Glacial Inferno", Kuprij delivers a Progressive Metal masterpiece with help from such vocalists as the wondrous Joe Lynn Turner (RAINBOW, SUNSTORM), Dougie White (RAINBOW), and Apollo Papathanasio (FIREWIND). Adding these singers is icing on the cake, and with any luck, it'll attract fans of more mainstream Metal fare into Kuprij's circle. "Revenge" is an excellent album and should by no means be passed up.

Now that you know what an exceptional deal this limited edition two-pack is, here's the catch: Lion Music is only printing 2000 copies. If you're a fan of Kuprij's past work or even a fan of Yngwie Malmsteen (seeing as nearly every single musician on both "Glacial Inferno" and "Revenge" has played with the Swedish shredder at some point), you'd best snatch this one up as soon as possible. I'm pretty sure "Glacial Inferno" is also seeing a standalone release, but as of right now, this combo is the only way for European fans to get their hands on the über-rare "Revenge".

(Online April 10, 2007) www.metal-observer.com
Vitalij Kuprij - Glacial Inferno And Revenge (Lion Music) By: Joe Florez www.live4metal.com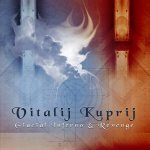 Not since Jens Johannson, has there been an individual who has not only performed on countless projects with other people, but pumped out their own material as well. Anyone in the prog scene knows of V.K. He has been in bands with Artension, Ring Of Fire and countless others. Look at the man's site for all of that. He is a very busy man being used up by the metal community, but this neo-classical keyboard wizard has managed to dish out "Glacial Inferno" with a bonus full length disc "Revenge" offered up for a limited time. G.I. contains some powerful musicians that are along for the ride. Michael Harris is a guitar virtuoso that had an incredible release just a few months ago on this label. Former Yngwie

members John Maccaluso on drums who has proven himself to be an incredible performer and legendary bassist Randy Coven are on board as well. With this line-up, it has to be good. "Symphonic Force" proves to be just that. You get a highly passionate and explosive uptempo number that has Vitalij moving his fingers across the black and white keys at MACH 5 speed. The section proves that they can keep up with V.K.'S pace Mike surprisingly doesn't shed. Instead, he plays at a consistent speed that isn't obnoxious or over the top. "Liquid Rain" isn't as outrageous as the opener. It's still quick on it's feet, but more room to let the songs breathe are showcased here. You can hear Mr. Harris' work more prominently as opposed to the first track which was pretty much over powered by V'S work. Make no mistake, the composition is just as complicated as ever, but it's a bit more relaxed and an easier pill to digest. You can hear everyone get down to business and enjoy it. After four tracks of high impact, things get scaled down just a bit for the title track. This one is a departure from the rest of the material because it's more hard rock oriented with crunching riffs and a more simplistic 4/4 drum measure. Sure there are some moments of shredding and ivory key wizardry, but it's the atmosphere and calm state of minds that makes this song prevail overall.
As we come to a close, I was more than impressed by what I heard. When you play neo-classical prog, it's very easy to come off sounding like Yngwie or the countless others because they all share the same common thread. The difference here is that VK is a pro and knows that he is in competition with numerous others and he has to find a way to set himself apart. He does it very successfully because he marches to the beat of his own drum and incorporates other styles to keep things high and mighty. I normally try to stay away from instrumentals because they wear me down after a while, but this is too good to pass up and any true music lover won't pass this up either. As far as the second disc "Revenge" goes, this one is loaded with guest singers from Joe Lynn Turner, to Doogie White, Goran Edman and more. Tracks like "Burning My Soul", "Into The Void" and the title track to name a few on here are fast and furious and have that Yngwie feel, but it can't be helped due to the fact that many of the singers were associated with him at one point in their careers. There is plenty of tempo changes on here to keep things entertaining. Overall, you are treated to two hours of heavenly bliss on here. A sure fire winner for all.
www.lionmusic.com | www.vitalijkuprij.com
Vitalij Kuprij – Glacial Inferno & Revenge


2007 Lion Music

He is a master keyboardist who, having provided his ivory work with Artension, James Murphy, Ring of Fire, Mattsson, etc…. but for a player that has both a classical side and a rock side, Vitalij Kuprij has always brought the full-blown traditional influence with him to the metal movements he lays his hands on. His latest release, Glacial Inferno is no exception, where he plays the Grand Steinway and various synthesizers to precise degrees (he proves that you can shred a synthesizer) and along with axeman Michael Harris, more chaotic arpeggios are added, and the music goes all over the place to create high magnitude neo-classical metal arrangements.

Instrumental all the way through, Glacial Inferno is quick paced, hindering to both Kuprij's & Harris' nimble fingered musings, complimented by the rhythm section of bassist Randy Coven and drummer John Maccaluso. Adhering the classical scope of things is "Symphonic Force," "Fire in the Sun," and "Burning Ice" while "Dancing Flame," the title track, and the ballad "Dying to Live" tend to crawl into rock stature.

This album in fact is another feat for Kuprij, who along with Malmsteen and Hackett, proves himself to be a modern day renaissance classical composer. If you are lucky enough to get your hands on the first 2,000 pressings, the more 'song oriented' Revenge comes as a bonus. Featuring Joe Lynn Turner, Dougie White, & Apollo Papathanasio among others, the album is a showcase of neo-classical progressive metal with a lot of high points (ala-Rising Force). The Driving rhythms with "Just Another Day," the balladry of "Let the Future Unfold;" AOR melodies of "Don't Believe in Love" and intensity on the title track expose the other sides of Kuprij's penmanship skills. All in all, this guy is a force to be reckoned with when he gets behind the keyboards.
Added: January 27th 2007
Reviewer: Tommy Hash www.ytsejam.com
Score:





Related Link: Vitalij Kuprij Link
Kuprij, Vitalij: Forward and Beyond

Neo-classical metal keyboard ace Vitalij Kuprij has a brand new instrumental CD, titled Forward and Beyond, containing eight jaw dropping numbers, plus 2 solo Kuprij bonus tracks if you get the European digi-pack version. The current Artension keyboard wizard, and former Ring of Fire member, brought along a host of virtuoso guitar shredders for this outing, so if you dig aggressive, classically inspired instrumental metal, this release will be right up your alley.

Symphony X guitarist Michael Romeo is on board for the complex "Piano Overture", adding his impeccable technique alongside Kuprij's amazing synth and piano lines. The two together create a huge wall of sound, much like a metal symphony, with Kuprij and his bank of Korg synthesizers trading blazing solos with Romeo's thick and chunky lines. The aggressive title track features some wicked playing from George Bellas, while "Time Will Tell" is a more symphonic and melodic affair, with Michael Harris adding the guitar histrionics. Guitarist Jeff Kollman strays from his normal hard rock/fusion material on the classically themed "Variations in D Minor", but succeeds mightily, throwing in some bluesy licks as well as burning, neo-classical shredding. Tasty arpeggios from Javier Leal battle Kuprij and his spacey textures on "Far From Home", while Harris returns for round two on the bombastic prog-metal of "Solar Impact." Here, Harris and Kuprij trade amazing and complex lead lines that will have you shaking your head in awe. More balls-to-the-wall prog-metal can be heard on "Message of Hope", where fellow Artension mate Roger Staffenbach joins forces with guitarists Borislav Mitic and Francesco Fareri, for an all-out shred fest of the highest degree.

The only real time you can relax and take a breath on Forward and Beyond is on the three solo Kuprij numbers "Idol Tribute", "Illusions", and "Phantom Fluries", where the keyboard maestro goes for a more introspective and majestic flair, while still showcasing his serious classical chops. While there is a fair amount of what some people will term "wankery" going on here, there is no denying the talent of Vitalij Kuprij and the guitarists that he has amassed for this recording. For an intense instrumental mix of classical, metal, and fusion, it doesn't get much better than this.

Track Listing
1) Forward and Beyond (5:40)
2) Piano Overture (5:37)
3) Time Will Tell (6:50)
4) Variations in D Minor (5:02)
5) Far From Home (6:32)
6) Phantom Flurries-Europe Bonus (1:06)
7) Solar Impact (5:02)
8) Illusion (2:57)
9) Message of Hope (5:54)
10) Idol Tribute-Europe Bonus (6:47)
Added: February 18th 2004
Reviewer: Pete Pardo www.seaoftranquility.com
Score:




Kuprij, Vitalij: Forward and Beyond

Released through Lion Music records.

"The Ukrainian Vitalij Kuprij releases his new solo album Forward And Beyond on February 18th 2004. He is well established in both classical and rock and is a piano master, composer and performer. For this album he has surrounded himself with some well known guitarists e.g. George Bellas, Michael Romeo, Michael Harris, Jeff Kollman, Javier Leal, Roger Staffelbach, Borislav Mitic and Fransesco".


What a blistering opening this album has, it's instantly in your face, fast, furious, heavy and as exciting as you could wish for. Breathtaking guitar and keyboard solos blend in with the occasional quiet interlude, progressive rock and metal with classical overtones. Track 2, "Piano Overture", also demonstrates this to perfection with manic piano solos of which you don't hear too often. The pace does drop just a touch for track 3, "Time Will Tell", to let the chorals take over, occasionally giving this track an air of grandeur but before you know it your back into the superb manic presentation that this man is capable of. There is also depth of emotion shown with the inclusion of the piano recital "Phantom Flurries" (one of two bonus tracks), "Illusions", an atmospheric and reflective piece, "Far From Home" with its more laid-back light approach, although it is still electrifying, and finally the second bonus track "Idol Tribute", another piano recital where Vitalij pays homage to his classical hero. This album is always melodic and portrays emotion far beyond the norm. One can imagine Vitalij Kuprij playing this with "steam breaking on his brow" as his hands move at the speed of light. This is the only album I have heard by this artist, even so he shoots straight into EPRR's Hall Of Fame at the speed of light; this is amazing stuff. 100%

European Progressive Rock Reviews
http://www.tandet.freeserve.couk




Vitalij Kuprij
Piano & keyboards

Guest musicians

George Bellas, Michael Romeo, Michael Harris, Jeff Kollman, Javier Leal, Roger Staffelbach, Borislav Mitic and Fransesco.

The Album

Forward And Beyond

Tracks

Forward And Beyond: 5.58
Piano Overture: 5.36
Time Will Tell: 6.55
Variation In D Minor: 5.02
Far From Home: 6.36
Phantom Flurries: 1.09
Solar Impact: 5.02
Illusions: 2.57
Message Of Hope: 5.50
Idol Tribute: 6.47
Vitalij Kuprij - Forward & Beyond
2004 Lion Music
Vitalij Kuprij is best known as the keyboardist of prog metal bands Artension and until recently Ring Of Fire. The Ukrainian keyboardist is arguably at the top of the neo-classical/prog pile with his competitors (in terms of ability) being Richard Andersson (Time Requiem) and Jens Johansson.
This album is to my knowledge the third solo release from Vitalij. Past efforts (on Shrapnel Records) have seen Vitalij joined by Greg Howe, Tony Macalpine and George Bellas. Forward & Beyond is no exception and the cast of guest guitarists is impressive. The ten tracks see solos from the talents of Roger Staffelbach (Artension), Michael Romeo (Symphony X), George Bellas, Michael Harris and Francesco Fareri amongst others. The album, as with Vitalij's band projects is very progressive with a strong neo-classical slant.
Opener Forward & Beyond sees George Bellas get to stretch his fingers over this very progressive track. Rampant solo trade offs are evident here (as indeed throughout the album). The production of the album is for the most part solid enough, the rhythm guitars are quite buried in the mix and this did hamper my enjoyment of the album somewhat throuhgout, but everything is clearly audible when it comes to the solo sections. The programmed drums are a little stiff in places and the cymbals do come across as sounding a little fake, but luckily this does not detract too much from the listening. Piano Overture is a beautiful very classical in nature rampant track with guitar work coming from Symphony X virtuoso Michael Romeo. The pair work together superbly here and its quite bizarre to hear Kuprij pull off an insane chromatic run that Romeo played when he guested on Arjen Luccassen's Star One album. Time Will Tell is more progressive than classical and see Vitalij trading licks with Michael Harris. This is closer to Artension than Yngwie and the results are some of the best on the album. Harris lays down some nice lead work although he is a litle buried in the mix. Variations In D Minor begins with Vitalij playing some beautiful piano, Jeff Kolmann supplies the fretwork here and again an enjoyable partnership is heard, very neo-classical and majestic with the melody based on one of classical musics most famous melodies.
Far From Home features Javier Leal on guitar who I must confess I have never heard of. He does however provide some great work in the vein of Tony Macalpine. This track has a strong chord progression that creates a solid framework for the soloing of Kuprij and Leal. Phantom Flurries is a short solo piano piece and is a european edition bonus track. It showcases Kuprij's virtuoso classical piano work. Solar Impact sees the return of Michael Harris and a more progressive feel.
Illusion is an atmospheric track solely from Vitalij, it does stand out from the rest of album purely because of no burning keyboard work. Message Of Hope is an absolute barn-stomer full of neo-classical charm and could quite easily have been plucked from an Artension album. This is quite possibly due the fact that Artension guitar maestro Roger Staffelbach contributes all rhythm guitars and arguably the best solo on the album. It does show what musical chemistry Kuprij and Staffelbach have and I just hope that Roger is much more prominant in the mix of the next Artension release. Having said that, the majority of the solos come from Borislav Mitic here and Francesco Fareri throws in a super speedy (yet short on subtly and decent vibrato) 14 second solo. The album is closed with European bonus track, Idol Tribute which is a 6 minute piano solo where Kuprij gets to flex his classical powers. Mixing Mozart with Beethoven and other famous Piano motifs. The track itself is very relaxing and a good way to end the album.
Forward & Beyond is a solid enough effort. However, at times the album does fall into a mass of frenzied keyboard and guitar soloing which does tend to splurge into one a little too much. As stated above the production of the album did hamper my enjoyment somewhat but there are still many devine musical moments to absorb.
Hot Spots: Piano Overture, Time Will Tell, Message Of Hope, Idol Tribute.
Rating: 78% www.virtuosityone.com