BOB KATSIONIS - IMAGINARY FORCE (A-/B+) Lion Music, 2004
12 tracks, RT: 49:41, multimedia section
[
http://www.nightfallstar.com/
]
[
bobkatsionis@hotmail.com
]
[
http://www.lionmusic.com/
]
I think I have a new favorite keyboardist, and his name is Bob
Katsionis. (Actually, I don't think I ever declared a previous
favorite, but that's quibbling.) This guy just flat-out smokes, and
unlike a lot of instrumental musicians he writes actual songs that
stand up to repeat listens. IMAGINARY FORCE is shorter and a bit more
focused than 2002's TURN OF MY CENTURY, but it's similiar enough in
style that if you liked the old one then you'll definitely like this
new one. The guy is just an amazing keyboardist and guitarist, no
question about it. Riffs, chops, hooks, solos...he's got 'em all.
Highlights include "Galaxy," "March Of The Spirits," "Bird's Eye
View," "Sing For The Day," and "Is It Me Or The Weather?" The disc's
bonus content includes a 14-minute behind-the-scenes movie and a video
clip for the TURN OF MY CENTURY track "Scary Groovie." Bob recently
joined fellow Greek maestro Gus G. (guitars) in Firewind -- that
should be a fun pairing! He'll only make that band better, and let's
hope he continues to pound out these ivory-tickling solo gems as well.
- Tim
Detritus Rock/Metal e-zine
"Rock Hard With A Purpose"
Detritus

BOB KATSIONIS - Imaginary Force
Bob Katsionis started playing keyboards at the age of ten and four years later in 1992 he bought his first guitar.
Inspired by keybordists like Kevin Moore, Jens Johansson and Keith Emerson, he started playing keyboards in
the band Skyward, who later was renamed Retrospect. Being one of the few keyboardplayers in his home country
Greece, who is really into Metal, gave him soon offers from a lot of bands. With Fatal Morgana, Bob played at Rock
Of Gods open air festival in Greece as opening act for Slayer, Saxon, Blind Guardian and Rage. Bob played with
other bands like Acid Death , Tidal Flood and he also played on the debut from the Power Metal band Casus Belli.
Between all this performing he got a diploma in classic organ, based on suites and fugues by J.S. Bach as well as
modern jazz pieces for pedal double scale organ, theory, classical harmony and history of music. After Bob finished
the army he joined the hip-hop-nu metal band Nipto Tas Heiras, but when he got a phone call from the singer in
Nightfall and the chance to play at Wacken Open Air 2001 he immediately joined the band. After this he became
permanent member of Nightfall and together with them he recorded their latest release I Am Jesus. He also in
this period started with the work of his first solo CD, while he was playing with Casus Belli. By the end of the
summer 2001 he joined Septic Flesh and toured Europe and Greece with them. While he was touring with Septic
Flesh Lion Music in Finland released Bob`s first solo CD Turn Of My Century. With amazing reviews from all the
world he got a great reputation as keyboardplayer and have since all this been involved in some session recordings
for Starqueen, Battleroar, Magic Kingdom, he also toured with Firewind on their Japanese and European tour.
When I month after month are receiving and writing about a lot of releases from around the world there are some
releases who goes a bit deeper down in to my soul than others. It`s not so often I write about instrumental albums,
but Imaginary Force from Bob Katsionis has made a big impression on me. Bob has managed to make an album
that sounds different to many other instrumental albums. One of the things I think is very strong with this album is the
variation from song to song. Musically Bob takes us through a lot of different styles like fast Melodic Power Metal
songs to more midtempo Melodic Metal songs, who are spiced up with some elements of progressive rock and
some jazz and fusion elements. The instrumental performing from Bob is on a very high level and done with such
perfection and creativeness that I will say it is the strongest instrumental album I`ve heard in a very long time! The
album is full to the very brim with class, quality, atmosphere and a production from Bob who is crystal clear. With
help from drummer Fotis Bernando and bassplayer Stavros Giannakopoulos plus some guest performances from
the two well known Greece guitarplayers Theodore Ziras and Alex Flouros, this album has become something
really special worth taking notice of! The fast and dynamic opener The Imaginary Force will hit you down directly
with tasteful riffs, solos and beautiful played keyboards. The twelve songs are all very strong and, as I said earlier,
with a lot of variation in the songs. March Of The Spirits is much more melodic and easier to recognize, the melody
played with piano is great and the guitarsolo at the end of the song is really nice. Sing For The Day is maybe one of
the songs on the CD that can be compared to and who reminds me of instrumental albums from Joe Satriani, Steve
Morse and Vinnie Moore, but the difference between Bob`s album and the mentioned ones is that the keyboards are
much more forward in the songs on Bob`s CD. A great example on that is with song number four, Galaxy. Is It
Me Or The Weather, All My Naked Hopes and Separated is my personal favorites on the CD. Check out
Bob Katsionis album Imaginary Force and you will be surprised!

The band:
Bob Katsionis - Keyboards & 7 strings guitars
Fotis Bernardo - Drums
Stavros Giannakopoulos - Bass
Additional soloists:
Theodore Ziras - Guitar
Alex Flouros - Guitar
Thomas Panagiotou - Toumbeleki
Katsionis, Bob: Imaginary Force
A couple years ago, in a review of Greek multi-instrumentalist Bob Katsionis' debut instrumental CD Turn of My Century, I called the then-25-year-old phenom "a cool geek with exceptional musical talent" and was "frightened by how much better this guy could get in 10 years."
Well, a mere two years later, the talent hidden within Katsionis' fingers, which play both keyboards and seven-string guitars, scares the bejeezus out of me. This dude is a monster, and Imaginary Force is the kind of instrumental album that will hit you like an unseen force, its musical prowess leaving you exhilarated and exhausted. Think Planet X meets Joe Satriani, with Yngwie Malmsteen and Vitalij Kuprij fighting for a piece of the action. But what else would you expect from a guy who prints the phrase, "Speed Kills; Warp Speed Rules," on the inside tray liner of his CD? With the backing of a drummer and a bassist, Katsionis welds his trio with the finesse of a veteran player — which he is, having been making music since age 10.
While the first nine songs on Imaginary Force stand on their own and convey a range of musical emotions, all stacked with melody (despite reaching warp speed a few times), it is the album's final 15 minutes, dubbed "The Trilogy of Lust," that make this album such a blissful listening experience for any sophisticated headbanger. The three-part scorcher begins with Katsionis' idea of how a porn soundtrack should sound — complete with moans and squeals ("St. Pervert"), segues into a majestic movement that tastefully incorporates elements of famous Greek composers Vangelis and Yanni ("Tsifteteli-Overture 1821)" and concludes with no-holds-barred, neoclassical-saturated keyboard piece Katsionis wrote while under the influence of a popular alcoholic beverage in Greece that became the title of the song ("Ouzo!").
Yowza!

Track Listing:
1) The Imaginary Force (4:10)
2) March of the Spirits (3:57)
3) Sing For the Day (4:32)
4) Galaxy (3:08)
5) Sudden Death (3:12)
6) Bird's Eye View (3:27)
7) Is It Me Or the Weather? (4:16)
8) All My Naked Hopes (4:05)
9) Separated (4:42)
The Trilogy of Lust
10) St. Pervert (5:05)
11) Tsifteteli-Overture 1821 (5:41)
12) Ouzo! (3:51)
Total Time: 49:41
Added: April 29th 2004
Reviewer: Michael Popke www.seaoftranquility.org
Score:

Related Link: Lion Music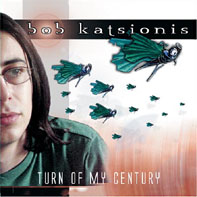 BOB KATSIONIS - TURN OF MY CENTURY (B+) Lion Music, 2002
17 tracks, RT: 58:08

[ http://www.lionmusic.com ]
Here is why you listen to *every* promo CD in the pile: Combine cheesy/goofy cover art (sorry, but it is) and a name you don't recognize, and you get an album that doesn't generate much interest or enthusiasm upon first glance. But then you actually listen to the disc (what a concept!) and you're blown away. Greek keyboard wizard Bob Katsionis has played with several bands (Acid Death, Imaginery, and Casus Belli to name three) but this is his debut solo album, on which he plays just about every friggin' keyboard tone known to mankind, programs the drums, and, last but not least, jams on 7-string guitar. Someone named Jimmy B. plays 5-string bass, and the resulting duo sounds as big and majestic and talented as any other self-proclaimed "sick" or "scary" all-star instrumental group. There is one rather
large difference between Bob K.'s music and that of those other groups though: Katsionis knows how to write three-and-a-half-minute songs with melodies. What a concept, eh? He can say what's on his mind without taking the listener on a long, boring, meandering trip. (Admittedly, it might be a stretch for some people to sit comfortably through nearly an hour's worth of keyboard-driven "prog lite," but trust me, TURN OF MY CENTURY is *not* a tedious wank-a-thon.) I'll throw out names of a few noteworthy songs just for shits 'n' grins -- "Planeterium," "Enemy's Adagio," "Windows To The World," and the title track -- but really, you have to sit down and enjoy the album as a whole. The inclusion of track-by-track liner notes (always a good thing in my book!) helps in this regard. This is a great disc to pop in the car stereo and cruise to. - Tim

=====
Detritus Rock/Metal e-zine
"Rock Hard With A Purpose"
http://www.dynamitemetal.com/detritus/
---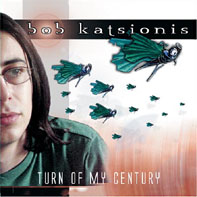 Bob Katsionis - Turn Of My Century (Lion Music 2002)
If you don't know this guy and love very heavy prog/fusion music, you absolutly have to check him! This guy is so talented, I can't believe what this guy is doing on the keyboard!! He studied classical organ for 12 years and it's really easy to see! The guitar riffs are also incridible! Raw energy, pure metal but with a progressive feel to it that give the music something very unique. One thing very important to say...it's instrumental music and man let me tell you that this is not a negative point! I'm a singer so for me, vocals is really important but this CD is and exeption....those songs doesn't need vocals!! It gives more place for the keyboard and guitar solos and let me tell you that these solos are one of the best I hear in my entire life!!! It's a total blast!
Note: 90%
Patrick www.thedarkesthours.com
---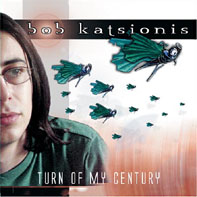 Bob Katsionis - Turn Of My Century
August 2002 | Released: 2002, Lion Music | Rating: 3.7/5 | Reviewer: Night Of The Realm
Keyboardist Bob Katsionis, hailing from Greece, scores a solid hit with his full-length debut solo album, TURN OF MY CENTURY, released on the progressive Finnish Lion Music label. This album is a fine demonstration of keyboard-driven (not keyboard-drenched!) progressive/power metal in the neoclassical style, and is completely instrumental.
WHAT? Keyboard-driven? Neoclassical? I know with that last statement, I lost more than a few of my readers, but for those of you who follow, let me continue.

Bob Katsionis is a talented musician. His primary study is classical organ, and he holds a degree in Church Organ Studies. While his background study lies in organ music, one cannot determine that from his music. TURN OF MY CENTURY is speedy prog, arguably metal, but undeniably good. Mr. Katsionis can shred on both keyboard and guitar, and his classical training makes this a very technical release as well. Though he is only 25 years old, he is no stranger to the metal realm, having played in various bands ranging in style from traditional metal to death metal, including the Greek bands Skyward, Fatal Morgana, Acid Death, and Imaginary, as well asplaying Wacken 2001.

Because this CD is completely instrumental, Bob's focus is entirely on the music, and his songwriting is such that one does not need lyrics or vocals to capture the mood of this album. The songs range from fast-paced shred tracks like "Omega," and the title track to slower, soulful, and almost spacey tracks like "My Strange Girl," one of my favourites from this disc due to its epic, sweeping keyboard atmosphere. Another great track is "Song Of The East," which opens with an odd beat, almost techno-ish, and an Arabesque wail, before slowing down to a Middle-eastern flair, then continuing into high-speed shredding. As Bob Katsionis says, "Speed Kills - Warp-Speed Rules!" The other track that really stands out to me is "Enhanced Fear," which among the shred guitar also features a classical organ bit, more Middle-Eastern influences, and something that reminds me of a folk dance piece, all combined to make a very cool song.

The liner notes are also worthy of comment as in the booklet, Bob Katsionis has written some comments about each song on the album. Here, he lists not only his intent and inspiration for the tracks, but also a bit about the technique and recording process, which I think will be quite interesting to the musicians who pick up this album. As for myself, I am content to sit back and enjoy the variety of music on this album. Bob Katsionis is a talented musician, and has written a very cool piece with this album. I really got a fair amount of enjoyment from this album, and I recommend that prog, shred, neoclassical, and instrumental fans pick this one up.

Rick Maloney Metal Rules!! www.metal-rules.com
---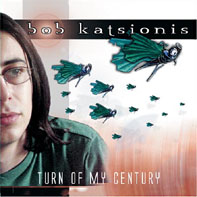 Bob Katsionis - Turn Of My Century (Lion Music 2002)
It is not fair when one musician can have so much talent, and in Bob Katsionis' case, his abilities as both a guitarist and keyboardist are exposed for all ears to hear on this his debut cd called Turn of my Century.

Hailing from the unsuspecting country of Greece, Katsionis offers a cd that is predominantly a combination of Neo-Classical shred meeting Fusion. An all instrumental display of frenzied finger dexterity to be sure, and as good as anything that is fitting into this categorically.

His keyboard work, and compositional sense fit him squarely into the league of Artension's keyboardist extraordinaire Vitalij Kuprij. His nimble fingerwork, and large arsenal of keyboard tones allow him to express the intensity of his classically based writing style. Equally impressive is his guitar playing, which gets about the same amount of attention throughout the cd. Again, his classical background is apparent in his approach to the guitar, he could be thought of as one that could mimic the likes of MacAlpine, Bellas, or Romeo.

I cannot say that this is an original recording, as I have heard a lot of music that is derived from this same palette of sounds and style, it is however, very well conceived, performed, and recorded, and should serve notice that a new and significant artist has arrived to satify the fans of Neo Classical instrumental music. MJ Brady silverdb.com
---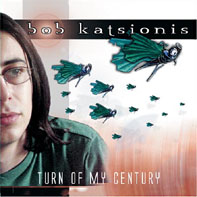 Bob Katsionis - Turn Of My Century (Lion Music 2002)
I don't know what Iggy is up to, but recently I have been getting many instrumental "super chops" albums for review. I run hot and cold with them, for the most part, usually because right after I throw them in, I find myself thinking: "Holy crap, these guys are awesome! I wish I had half those chops!". The trouble is that, more often than not, these albums lack enough variety to hold my attention for a full 60 minutes.

Fortunately, this album by Greek keyboard mutant Bob Katsionis is not too guilty of the usual excess, and it will probably be quite a treat for anyone who loves music with chops, a la Dream Theater meets Iron Maiden with a dash of Kansas. Many of the songs have hooks and memorable melodies, plus the obligatory incendiary solos, and the attention to detail in the compositions is to be noted. There aren't incessant changes or a million parts to each song, yet nothing sounds milked. For what it's worth, I give the song-writing an enthusiastic thumbs up.

There are only three weak points on the album, which I must note as well. One is that, while the sequenced drums are expertly programmed, with a lot of variation and none of the obvious loops, music of this caliber really deserves to be recorded with a human being keeping time. Sometimes when you write an entire piece of music you get the sense that you really need to have every drum fill and drum pattern this way or that, but if one lets go, the "demoitis" will soon pass, and 99% of the time having the aggression and pulse of a real person on tape is a vast improvement.

The second and third are less important, and perhaps only reflect my own simple-mindedness, but I kept thinking that many of the songs really needed vocals, and that the album runs a bit too long. Maybe "needed" isn't right, but I often found myself waiting for vocals to kick in, and I found it hard to be as upbeat about the entire disc past track 12 (Face the Undead). The last 6 tracks are great in their own right, but by then I've had enough of the sequenced drums.

I think talented instrumentalists often ignore the old adage "leave them wanting more...", but ultimately, it's a matter to be decided by the taste and imagination of the listener.

I hope this is the start of future output from Katsionis. Keyboard
aficionados owe it to themselves to check this out.
Luis Nasser / www.prog4you.com