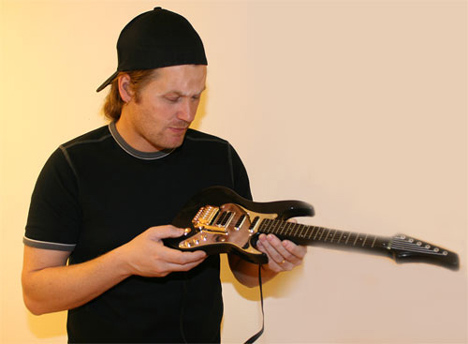 Patrik Carlsson is one of a hot new generation of exciting instrumental guitarists to have come out of Sweden in the new millennium. His debut release "Phraseology" (LMC107) was released in 2004 on Lion Music and now his follow up "Melodic Travel" sees Patrik take a turn into more traditional music waters to produce a very visual and melodic instrumental release that combines Patrik's guitar flash with some folk and jazz inflections.
On the new music's nature Patrik comments, "This was first meant to be a folk/jazz-inspired trip to the heart of Swedish traditional music. But then I change my mind and started to explore various sidetracks and musical solutions. The final result was a lot of different alternatives and in the search for the melodic treasures new discoveries were made". "The melodic travel begins in the deep forests of the northern mountains. You will hear the sound of ancient workers with their tools and the melody once created with the violins celebrating their lifestyle. Having passed through different environments and landscapes the adventure will end up in a red cottage on a small island far away from modern civilisation, where the water and the winds are quiet and the sunset soon will pass into darkness".
Each song on "Melodic Travel" has its own story, and to accompany the release Patrik's official website (http://www.figstamper.com/) will have illustrations to visualise each song's story and mood.




» Patrik Carlsson is at the forefront of a hot new talent of Swedish guitarists.
» Patrik's debut "Phraseology" won critical acclaim and "Melodic Travel" is expected to fare even better.