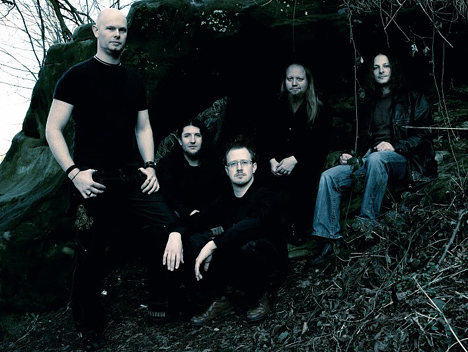 Dutch progressive metallers Sun Caged see their highly anticipated third album "The Lotus Effect" set for release on 17th June 2011 on Lion Music.
With two critically acclaimed albums behind them in the 2003 self titled debut and 2007's follow up "Artemisia", the band took time to work on the material that makes up "The Lotus Effect".
Musically "The Lotus Effect" is the most diverse effort yet from Sun Caged containing both the heaviest and most mellow things the band has done. Moments of complex poly-rhythm contrast with very groove based melodic parts, and of course brilliant solo sections, and singable choruses all which give the band their own distinctive sound.
Lyrically the album tries to find themes in specific stories and circumstances that can be extracted and turned into universal and relatable feelings and ideas. Politics, relationships, personal reflection, intertwined with modern interpretations of concepts found within ancient eastern philosophies. In short, the lyrics try to find deep meaning in simple everyday truths, without preaching or sounding grandiose or pretentious or telling anyone what to do or think.
"The Lotus Effect" also saw a change of how Sun Caged created music with much of the material being written in the rehearsal room through jamming instead of different members writing almost complete works at home. This along with frequent live performances sees a more complete band sound shine through the new material. That's not to say the album has been an easy one to produce.
Writing and arranging in the band room began almost immediately after release of "Artemisia" in 2007. An instrumental demo of some of the songs was made in 2008 so Paul Adrian Villarreal could work on lyric-writing at home, that same year a few more songs were composed and arranged including the 24 minute epic that comprises tracks 7 to 14 on the final album. Instrumental recording began toward the end of '08. Meanwhile, Paul's lyric writing process was slowed down by new additions to his family but at the same time he equipped his home studio to be able to record the vocals for the album at home.
At this time the band also went through a pretty long search for a new bass player. Crisis was averted as Daniel Kohn was found just in time to be able to play some gigs in support of Pain of Salvation in December 2009 where several new songs were debuted at those gigs, and were well received. By this time, band and fans were getting anxious and excited for the new material to be released!
Mixing, mastering and Artwork took the better part of 2010 with every member juggling several other commitments and responsibilities, but happily the last of the vocal mixing sessions were finished just before Paul & his wife joyfully saw their third child born during the albums creation! In the run up to release the band played support to Fates Warning in February 2011.
Those who try to describe Sun Caged's music will find this task to be considerable. Influences range from progressive metal to fusion and jazz, and atmospheric and ambient jaunts. The band's progressive blend is going to excite lots of listeners because of its diversity and excitement with "The Lotus Effect" serving up the most potent examples of the bands sound yet. The wait has been worth it.




• Long awaited third release from one of the most talked about progressive metal bands to have emerged from Holland this century.
• Sun Caged have built up a strong fanbase due to numerous gigs and key support slots across Europe and the USA.
• Reviews in all leading rock/metal press and webzines.
• Sun Caged are available for interview in English, Dutch or German. Please contact 'promo@lionmusic.com' to arrange your publication/webzines interview.