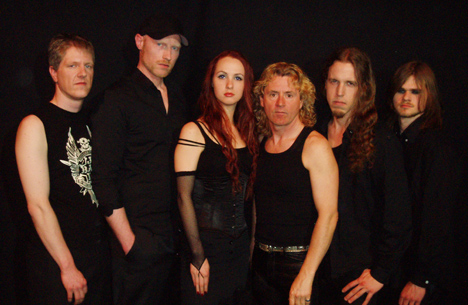 The music of the debut album from Infinity Overture is big and explosive in places with insane guitar solos, yet balanced by subtle melodic breaks and big harmonies. With 'Kingdom Of Utopia', Infinity Overture are set to make a big impact in the world of symphonic power metal with the quality of material heard on this, their debut release.
Infinity Overture are a Symphonic Power Metal band founded in Denmark in 2005 by guitarist Niels Vejlyt who set about writing compositions of great intensity and beauty. To ensure the music is accessible for all rock fans Niels set about crafting songs that are home to memorable verses and choruses, and these were then fused with more traditional epic metal arrangements and symphonic elements.
This blend of melodic metal and the symphonic orchestra, was strong enough to make vocalist Ian Parry (Consortium Project , Elegy) join the band and it was his vision that provided not only all the lyrics but the story concept on which the album is based.
Ian Parry's distinctive and powerful vocals take Infinity Overture's sound to a higher level. Soon after Mads Volf (drums - from Manticora) and Mads Damgaard (bass) joined the band when they heard the quality of the material. To finalise the sound Infinity Overture still needed another element to be completed, this final piece was found in female lead vocalist Lene Pedersen whose style is the perfect contrast to Parry's. Now Infinity Overture are ready to take their sound to the live stage with support slots for Tim 'Ripper' Owens and headline gigs having already been played.
"Kingdom Of Utopia" was mixed by Sascha Paeth and Miro, the production team responsible for albums by Rhapsody Of Fire, Kamelot and Angra (amongst others) in conjunction with Niels Vejlyt.
"Infinity Overture - Kingdom Of Utopia" will be released in standard CD and a strictly limited edition first pressing only "Deluxe" CD/DVD dual pack. The DVD features band interviews, videos and much more.
Niels Vejlyt started out by being obsessed by the electric guitar at an early age. Since then he has developed a superb technique and formidable compositional skills. In the past Niels has done two guitar instructional DVD's for Chops From Hell, and one for Shred Academy. Right now Niels make is teaching large amounts of guitar students every week in Denmark, and his DVD's have been sold worldwide. From this Niels has gained great popularity in the Shred guitar community.




A lyrical concept story written by Ian Parry with music composed by Niels Vejlyt
Long ago there existed a kingdom and in that kingdom lived the gentiles. A peace loving people whose skills covered a wonderful variety of gifted crafts from architects to painters and philosophers to mathematicians. Over 1. millennia their understanding of a balance between man and nature evolved. They created a language understood throughout their world and the essence of this unique form of communication was its principle, "purity of mind". Their talents helped them create methods for enhancing the natural resources within the ground. They combining rich soils with stone and formed these elements into a hardened rock, which they shaped into different forms and sizes.
From this new source they built colossal structures and temples long before the Maya's and their domain became a forbidden place to the outside world.
These 2. great believers saw a world of the future in perfect harmony. Their strength and power came from words and not the sword. Communication formed a unity of ideas, which side by side formed together as one. This ancient language had helped them to survive for thousands of years.
Alas for the first time this tranquil peaceful society would come under treat. Unbeknown to the gentiles 3. a warrior king called Maddogcladees began building his own empire. An empire for emperors belonging to his forefather's tribe. A portrait from their tribal paintings of long ago, showed his forefathers had predicted the birth of a warrior king. Now finally his own Mandie Empire was complete and his destiny clear. He must lead his people into battle whatever the cost.
Believing in the consolation of the stars, the stars proclaimed the existence of a 4. wonderland. There they would find a city of angels. And so they set-off in search of this lost world into the great frontier. The gentiles not realising the existence of others, had built these magnificent 5. temples of doom. These temples would draw the strangers closer to them, finally placing their race under direct treat.
Maddogcladees so it was written was destined to become the ultimate ruler. A pharaoh in his kingdom
the 6. kingdom of utopia. Anticipating a great battle full of glory the unexpected happened. The gentiles did not rise-up in anger, but instead greeted the warriors with open arms. They sent forward their most precious gift of all, their immaculate being. Their princess whose beauty was so stunning would steal the warrior's heart. Astonishingly Maddogcladees this fierce warrior king would fall in love with one so fair and kind. In his eyes she was the one; his 7. queen of hearts.
Believing her to be part of his destiny, he took this fair maiden as his bride to be. He decreed that there marriage was a bond uniting these two peoples. And so the princess became the mother of pearl watching over the Mandie tribe and the Gentiles throughout this great new world.
The warrior king stood by his queen's side and lay down his sword. For a while he kept it close by in case the good times turned to bad. This unity as he thought would not last and his soldiers became restless. Their king swore an oath that he would bring them gold and riches beyond belief. How could this place be their kingdom of utopia, whilst the riches their king had promised never appeared.
Only their king was happy with his new bride.
However fate would come to their rescue. Slowly the waters around this kingdom would begin to rise. The rains poured down bringing a great flood. Many were reluctant to leave, but the warrior king believed they must flee this precious land. The stars would lead them to safety pointing the way to a haven. Although it was hard to leave their past behind they built a massive boat. An impressive structure being only one of a kind they set-off travelling to a place they could not see on the other side of nowhere. Crossing what to them seemed like 8. oceans of time they battled on together through rough seas and stormy weather.
Finally warrior and gentiles alike would find their Utopia, a safe place on high ground with an abundance of fruit and fresh water. Multi-coloured birds filled the skies and tame animals wandered freely. The great floods resided and as it was predicted they had found their paradise. Finally this proud nation could rejoice in their new land. In honour of their gods and ancestors they built a monument on the highest mountain where they placed 9. a sacred fire and lit an eternal flame to protect and shine across this peaceful sacred land.



• Superb new Symphonic Power Metal band featuring guitar virtuoso Niels Vejlyt and legendary vocalist Ian Parry.
• Immense song writing and big epic production
• Infinity Overture will appeal to fans of Rhapsody Of Fire, Kamelot amongst others.
• 2 versions will be released, 1 standard CD only edition and 1 limited edition CD and DVD deluxe version (1st pressing only).
• Infinity Overture are available for interview via email or phone, to arrange yours please contact promo@lionmusic.com