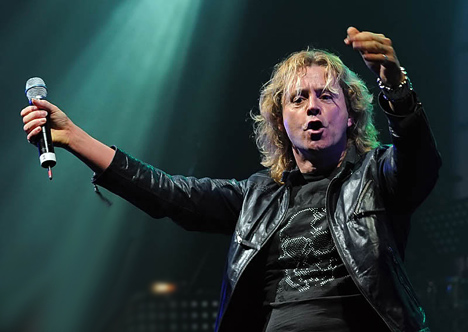 After the success of "Species" the final instalment of Consortium Project's pentalogy of releases with back in June 2011, Lion Music are proud to now announce the re-release of the complete Consortium Project back catalogue. All albums are remastered with the added extra of new bonus tracks for each new reissue, the series begins with the first instalment of Ian Parry's epic story - 'Consortium Project 1 – Criminals & Kings' - on 18th November 2011.
Heading back to the mid 1990's and after the release of Ian Parry's solo album "Thru' the looking-glass" in 1995, it had been the wish of the English singer-songwriter famous for his work with Elegy to embark on a new ambitious album. Ian's wish not only saw a new album develop that would see the light of day in 1999, but a whole new musical legacy that would see a story develop over five releases spanning 13 years.
The original "Criminals & Kings" album contained 11 powerful melodic progressive metal tracks, not a million miles away in scope from the works Parry was so acclaimed for with Elegy. Now in 2011 the starting foundation for the Consortium Project pentalogy is revisited with the added enhancement of a full remaster by Marcus Teske and two new never before heard bonus tracks in the form of an acoustic version of "A Miracle Is All We Need" with Patrick Rondat on guitar, and a demo version of "Evilworld" which sees Ayreon mastermind Arjen Lucassen provide bass guitar.
"Consortium Project I – Criminals & Kings" sets the foundations for a story that would be continued throughout the subsequent four albums – ("II - Continuum in Extremis", "III - Terra Incognita", "IV – Children Of Tomorrow", "V – Species") with the main story premise of "Criminals & Kings" set in a time shortly after President Kennedy's assassination, the impact of which saw a global ripple effect in which a select few whose motives would change the balance of power had secretly gathered. These select few implemented their totalitarian ideals, with one aim – to create a new world order. To do this they manipulated an innocent and honest electronics genius, who had developed a method to communicate globally using electronic messages. His dream was to bring people closer together. He never once considered that this would help create endless opportunities for greed and corruption… and so the story begins.
As is also the case on future Consortium Project releases Ian Parry surrounded himself with a wealth of first class musicians. For "Criminals & Kings" Parry is joined by guitarists Stephan Lill (Vanden Plas), Thomas Youngblood (Kamelot), Patrick Rondat (Elegy, Jean-Michel Jarre) and Tamas Szekeres, bassists Barend Courbois, Martin Helmantel, Arjen Lucassen, drummer Dirk Bruinenberg, pianist Jan Vayne and keyboardist Tommy Newton.
"Criminals & Kings" was recorded in various studios worldwide including the USA, Holland, Germany & Hungary. Being such an enormous task, Ian Parry personally coordinated the production duties. The album was then mixed at Area 51 studios in Germany by ex-Victory guitarist/producer Tommy Newton.




• First instalment of the complete reissue of the previously out of print Consortium Project back catalogue.
• This new edition comes fully remastered and loaded with exclusive bonus tracks.
• All star cast featuring members of Kamelot, Ayreon, Vanden Plas, Elegy.
• Ian Parry is available for interview now via email or Skype, email requests to promo@lionmusic.com
• Reviews in all leading rock/metal press.