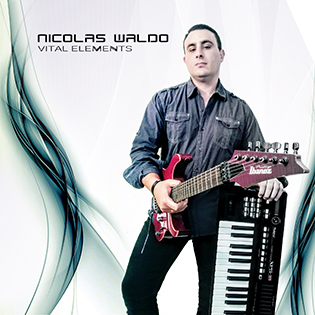 NICOLAS WALDO - VITAL ELEMENTS

Genre: Modern Rock Fusion. Track one features a guest appearance by Derek Sherinian.


1. Please describie the new album musically and conceptually.
VITAL ELEMENTS is a contemporary jazz-rock fusion album with several elements of Shred Guitar.

2. If you had to choose one artist (I know this is hard) but if we had to say "recommended for fans of XXXX" who would that be?
I have several musical influences. I listen and study classical music, jazz , rock , metal , etc.
But if I had to choose one artist, I think on Greg Howe.
He is amazing american guitarist who was the most important influences for the fusion rock style on 90's and he´s the "father" of new recognized guitar players like Guthrie Govan , Rick Graham, etc.

3. How does this one differ from your previous recordings?

I have ten studio albums and my previously three albums had a direction on Shred Guitar style 100% (Master Of The Universe, Equilibrium & Mastermind - Also available via LION MUSIC RECORDS).
This new album "VITAL ELEMENTS", have the essential elements of Shred Guitar but I wanted to add others musical resources, scales, new digitation patterns, etc.
I think that VITAL ELEMENTS is my album more "mature" on musical concepts.

4. What was the goal with making this album?
Enter to new musical dimension.

5. Any specific influences towards the music ?
Jazz from 40´s (Be-bop- Charlie Parker); Blues & Swing elements and of course all tools about Shred Guitar (Speed Picking, Sweep Picking, Legato, Hibryd Picking,etc).

6. How long did it take to make this album?
One year.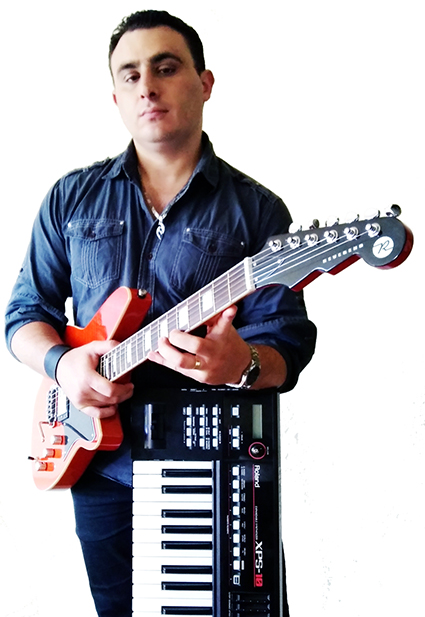 7. What has the different musicians contributed to the result?
DEREK SHERINIAN (Ex-Dream Theater, Planet X) He is a recognized keyboard player who played the keyboard solo on my new song "The Game".
Really, I ´m very happy with this guest - He is one of most importat keyboardist around the world and his participation on this album was amazing!...

8. Names of the songs:

1. The Game // feat. DEREK SHERINIAN (Ex-Dream Theater, Planet X).
2. Vital Elements
3. Hourglass
4. Time Machine
5. Swing Picking
6. Funky Shred
7. Zero Stress
8. Acid Rain

9. Please if possible say something special about each song:

THE GAME,
Contemporary Jazz-Rock Fusion Shred song with Guitar & Keyboard improvisations.
VITAL ELEMENTS,
On this song I played the "Piano Solo" with Latin Jazz music elements.
HOURGLASS,
Experimental song with arabian scales and minor harmonic modal scales.
TIME MACHINE, The unisons between Guitar, Bass & Keyboard were the most importat elements of this song.
SWING PICKING , This song have two section , first, with swing section similar 1920´s style and second, Rock Fusion section.
FUNKY SHRED , Song with several Funk elements, improvisations and Guitar & Keyboard Jam.
ZERO STRESS, Song inspired on Mike Stern style,
ACID RAIN . Slow-tempo song with differents colours on his harmony and several improvisations and use of eleventh chords and Extended Chords 9th 11th 13th.

10. Musicians on the release:
NICOLAS WALDO - All Guitars , Bass Lines, Pianos & Keyboards solos.
LEANDRO ARIAS - All Drums.
Feat. DEREK SHERINIAN (Ex Dream Theater, Planet X) - Keyboard Solo on"The Game" song.

11. Production and recording credits:
Produced by Nicolas Waldo.
Recorded & Mixed at Meggido Records Studio & Alt+164 Studio (Ontario, Canada).

12. Please feel free to add anything you wish:
NICOLAS WALDO
Official Facebook Page:
www.facebook.com/nicolaswaldo
Official YOUTUBE Page:
www.youtube.com/nicolaswaldo
INSTAGRAM:
nicolas_waldo
OFFICIAL WEB SITE:
http://heavenflames.wixsite.com/nicolaswaldo








1. The Game (featuring Derek Sherinian)
2. Vital Elements
3. HourGlass
4. Time Machine
5. Swing Picking
6. Funky Shred
7. Zero Stress
8. Acid Rain


AVAILABLE IN DIGITAL FORMATS FROM ITUNES, APPLE MUSIC, AMAZON, SPOTIFY ETC.


ALSO AVAILABLE: