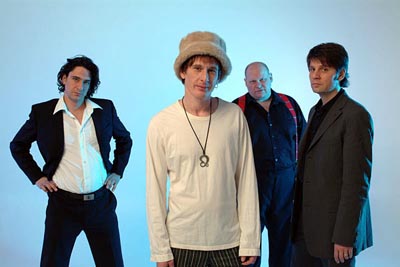 The idea for Electric Outlet was born when the European Session Heavyweights Marcus Deml (g), Frank Itt (b), Ralf Gustke (dr) and Tom Aeschbacher (keys) were hanging out at Franks Studio 4, listening to the music they discoverd as teenagers. That music was so-called fusion, which in the 70"s wasn't a bad word at all. Stanley Clarks "School Days", Billy Cobham"s "Spectrum", Tony Williams "Lifetime" amongst others, were spinning on the turntable.

Inspired by the reckless abandon and energy of these recordings, the guys quickly decided to do an album which had only one rule: Do as you please!!! That meant that stylistic boundaries were not a problem, and elements of Rock, Jazz, Funk, Blues, Reggae and electronica would be part of Electric Outlets sonic playground. In addition with Kai Fricke"s fantastic production skills, "On" is definitely a modern record.

Another important factor in the making of the album, was the lack of preparation prior to the recording process. Everybody just brought in little bits of music, and within half an hour of jamming, a track was ready to record. Simple instrumental melodies were used as a framework to give every player the chance to stretch out and play off the other members.

As a recult collective improvisation happend a few times during the recording of "On", and made it sometimes hard to decide which take of a track should be choosen. The simple joy of playing music by four outstanding musicians is the reason for the quality of this great recording.

The Musicians:

Marcus Nepomuc Deml is one of the most charismatic Electric Guitar Players to ever come out of Europe! With his amazing tone and subtle virtuosity the Prague-born musician who grew up in Germany, Austria, and the States, seems to be fearless to incorporate elements of musical styles, which do not feature guitar normally. In 1994 he released the probably first "Ambient-Techno meets Guitar" records with "Earth Nation" and their Albums "Thoughts in past future" and "Live at the Montreux Jazz-Festival". Pursuing this approach with a lot more guitar, 1998 saw the release of the critically acclaimed "Errorhead" debut, a true milestone in Music-History! "Error Rhythm", his follow up, shows Marcus' development as a writer and a true stylist, who in one minute can send shivers down your spine, by getting inside one note or can rip your head of with a cascade of runs or an amazing sound.

Tom Aeschbacher was born in 1969 in Heidelberg, Germany, and grew up in Switzerland and Germany. He achieved an award in 1996 (Outstanding Player Of The Year) during his studies at Musician Institute, Hollywood. Since then he has been working as a piano based keyboardist in countless band an show projects ranging from Top Ten Acts to Top 40 Cover Bands. As a well known session player he is performing about 120 shows a year. Right now he is a member of the popular German act 'Lotto King Karl', the German Top Show Production 'Night Fever' and is teaching at the Yamaha Academy Of Music in Hamburg.

Frank Itt was born in 1960 in Germany. He started playing Bass very late at the age of 18. Fortunately he had the chance play in a Blues-Band one year later. At the same time he and his British friend Marc started their first band called "The Touch". Two years of rehearsing and some personnel changes brought in a first record-deal. After the band split only the vocalist named "Terence Trent D'Arby" made it with international success. In 1985 Frank was offered to play with "Jennifer Rush" in her Tour-Band which he did for two years. This was the entrance to the Tour-Band of "Howard Carpendale", a very successful MOR-Act in Germany where he still plays bass. Later he worked with "Al Bano & Romina Power" worldwide. In 1992 Jasper van´t Hof engaged him for his Afro-Jazz-Band "PILI PILI". In 1995 germans leading Fusion-guitarist "Michael Sagmeister" asked him to join his Quartet with Hedrik Soll (Keyboards) and Michael Küttner (drums). They worked together for three years. 1996 Frank founded a band around a german Rock-Comedy-Singer "Lotto King Karl" which he produced since 1998. By then Frank expanded his musical horizon and started to work as a producer as well as a sound-technician as well as a bass player. Since 2002 Frank Itt is a part of Errorhead with Marcus Deml and Harry Bum-Tschak. In 2003 he started the first Semester at the Popakademy Mannheim where he now takes care of the Bass players and the bands and projects founded within the academy.