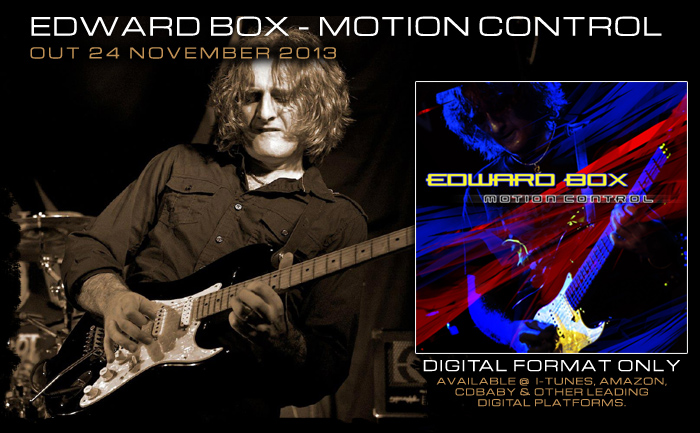 Inspired by the likes of Van Halen and Judas Priest, Edward Box started playing guitar at the age of 14. His early influences included Michael Schenker, George Lynch, and Warren DeMartini and like many budding six string slingers, the late 80ís explosion of shred guitar conspired to push him onwards and upwards on his chosen instrument. With Malmsteen, Macalpine, Vai and Satriani firmly entrenched in his album collection, he moved from his native Kendal to the industrial climes of Newcastle upon Tyne to study music.
In 1989 he was one of the founder members of what would be become his first proper band, XLR8R. Combining the traditional grit of British Metal with the technical virtuosity of Progressive Rock, XLR8R soon gathered an army of followers in the local region and beyond. The band began to attract major label recognition, support slots with the likes of Thunder and Skin as well as a session on the legendary Friday Rock Show. By 1995, in a bid to finally break through, the band had self financed its debut album INNER OCEANS. However, despite superb reviews, they couldnít stave off the tide of apathy that had afflicted the UK metal scene. In the wake of the twin onslaughts of Grunge and Nu Metal, XLR8R called it a day.
In this period, Edís reputation as a guitarist grew, with his abilities being singled out for special mention in publications such as Guitarist, Total Guitar and Kerrang magazine. With this in mind he set about writing his first album of all instrumental material. The demos caught the attention of Lion Music (a relationship that thrives to this day) and the re-recorded versions became Edís first fully fledged solo release; 2002ís PLECTRUMHEAD. In 2004 Ed also appeared alongside Greg Howe, Richie Kotzen and Ron ĎBumblefootí Thal on the album The Sprit Lives On: The Music of Jimi Hendrix Vol 1.
2006 saw the release of Edís second album MOONFUDGE. Like its predecessor, it was very well received and showcased Edís keen ear for melody and tight song structures. Just prior to this Ed began to start writing vocal material for what he initially thought would be a solo record. Once preliminary rehearsals started, it immediately became clear that only a fully fledged band could do the songs justice. VENDETTA was born! The band released its debut album TYRANNY OF MINORITY in the fall of 2007 and this was backed up by a series of gigs in and around the UK. Critical reaction was positive and in 2009 the band followed it up with HERETIC NATION. Building on the strides made over the previous few years, the album marked a real upturn in the bandís sound and showed a major growth in the writing and in Edís vocal performance.
The album was backed up with more live work before thoughts turned to its follow up. WORLD UNDER FIRE was released in the spring of 2012 and it was clear the band had developed its sound further still. This was highlighted in the video for the lead of track HALO IN BLACK.
In 2013, everything has come full circle with the release of the 21 track retrospective MOTION CONTROL. Returning to his first two solo albums, Ed has re-recorded the lead guitar for three tracks as well as adding extra parts to the existing mixes of another ten songs. This major sonic overhaul continues throughout the album and it breathes new life into the material that began his long association with Lion Music.