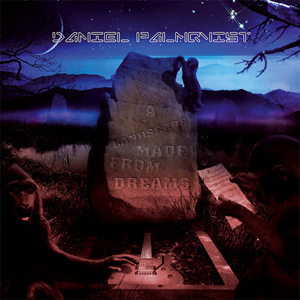 Released June 16th 2006
LMC177
EAN: 64199220017776
Track Listing
01. Welcome
02. Devil's Dance
03. Moment of Clarity
04. If Things Were Different
05. Riddle Me This
06. Carte Blanche
07. After the Rain
08. Truffle Shuffle
09. Behind the Mirror
10. Song for Pongo
11. Words of Wisdom
12. A Landscape Made from Dreams (Farewell)
Musicians
Daniel Palmqvist – All Electric and Acoustic Guitars.
Daniel Flores – Drums, keyboards
Johann Niemann – Bass guitar, Fretless Bass
Andreas Olsson – Bass guitar on track 03. and 05.
Johannes Stöle – Organ solo on 04.Keyboard solo on track 09.
Kaspar Dahlqvist – Keyboard solo on track 03.
Andreas Lindahl – Keyboard solo on track 12.

Credits
Produced by Daniel Flores.
Co-Produced by Daniel Palmqvist.
Mastered by Mats Lindfors.
Marketing & Promotion
Reviews and Album Showcases in all relevant printed and web press.

Interviews
Daniel Palmqvist is available for interview in English or Swedish.
To arrange your interview contact promo@lionmusic.com
Official Website
www.danielpalmqvist.com

'A Landscape Made From Dreams' is the debut album from Swedish guitar maestro Daniel Palmqvist. The music is a collection of 12 sonic tapestries that are diverse in styles yet combine to make a truly cohesive body of work guaranteed to appeal to non-guitar players as well as their stringed counterparts.
Palmqvist's approach to the instrument is inspired by the likes of Eric Johnson, Yngwie Malmsteen, Allan Holdsworth, Pat Metheny, Steve Lukather, Dan Huff and Kee Marcello, Daniel's playing combines the technical proficiency of the above with a strong dose of melody to make his own unique voice. On songwriting inspiration Daniel's states, "For some of the songs I had a clear idea of a certain feeling or mood that I wanted to get across to the listener. On other songs I started out with a mental image, or as in one case, just a quote from a movie. Then sometimes I just get a melody or a riff in my head and go for it."
'A Landscape Made From Dreams' was written over a 2 ½ month period spread out over the winter of 2005 and the spring of 2006. Daniel Palmqvist and producer Daniel Flores (Mind's Eye) worked on and off during this time due to their activities outside this project. The basic rhythm tracks where recorded in about two weeks in Flores's "Sound Vs Science studios", and then all lead guitars at Palmqvist's studio "Landscapes Made From Dreams studios" towards the end of this period. Mats Lindfors mastered the album at MasterRoom.
On the aim of the album Daniel comments, "The most important thing for me was to make an album of interesting songs, with thought through arrangements and memorable melodies that would appeal to both guitar players and non-musicians alike. Of course, the guitar playing is very important to me, but I enjoy good guitar playing in a context of good music, so the songs were my main priority. I've sometimes found myself fast-forwarding to get to the solo when I listen to instrumental rock guitar albums, but I hope theses songs will capture the listeners imagination and take them on a musical journey, as well as delivering a heavy dosage of cool guitar stuff...
Providing the musical support to Daniel's guitar work is the previously mentioned Daniel Flores on drums, and his Mind's Eye partner bassist Johann Niemann. Palmqvist comments, "They both are fantastic players, long-time friends and their experience and musical input really helped the songs come alive". In addition Andreas Olsson (Narnia, Rob Rock) contributed with his excellent bass playing on two of the tracks.
Daniel also had the privilege of having three guest keyboard soloists. The very melodic and tasteful Johannes Stöle (Pedestrians Of Blue, Orange Crush) plays a great keyboard solo on the song "Behind The Mirror" and a beautiful organ solo on "If Things Where Different". Kaspar Dahlqvist (Dionysus) performs a fantastic solo on "Moment Of Clarity", a player with a great sense of melody and a distinctive personal voice. Finally on the title track Andreas Lindahl (session keyboard player) shows up with a stunning keyboard solo, rhythmically interesting and performed with amazing technique.